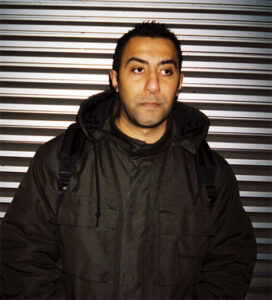 Satiesh Mathoera is Baseheadz, a musician who calls the Netherlands home. He has had an interesting career playing funk/rock to the more downtempo/acid jazz sounds of his full-length debut album entitled Baseheadz and Beyond. As Baseheadz, he combines his unique style of heavy bass guitar riffs accompanied with slick turntabalism. Slackline caught up with Baseheadz last week to see what has been keeping him busy lately.
Slackline Radio: Thanks for taking the time for talking with Slackline Radio. What have you been up to over the last few weeks?
Baseheadz: Well, the last few weeks were hectic I must say. I just finished my next single with a mastering session. I've asked mc/producer Kev Brown (Upabove Records, Kenn Starr, DJ Jazzy Jeff, De la Soul) to collaborate on my forthcoming single called "Hiphop" which will be released at the end 2006 on Mental Recordings. I've also made a start recordinging demos for my a second full length album which will be released next year.
Slackline Radio: What can we expect to hear on your new release that may be different than the laidback sounds of Baseheadz & Beyond?
Baseheadz: Because I'm influenced by alot of music, my future releases will be slightly different from my debut CD. I'm now in a phase of creating more soundscapes for my (future) productions and using less effects, trying to make my arrangements as raw as I can. Of course I will maintain to use and experiment with my bass guitars and low frequencies and make instrumentals. For instance, my new single release with Kev Brown which is planned [to be released] in December 2006, has a more hiphop-soul-funk vibe. For those who can't wait, the pre release will be available [at the] end of October 2006 via legitimate download services along with an animated videoclip.
Slackline Radio: You obviously have a passion for the bass guitar and I suspect your studio name, Baseheadz, reflects this. Tell us a little bit about your musical history playing bass and your progression toward the downtempo, acid jazz sounds on your first release, Baseheadz and Beyond.
Baseheadz: My second time ever I put my fingers on a string instrument was on a spanish guitar at the age of 13 which my brother lent from a school mate. My very first song I played on that guitar was "Fragile" from Sting and from there on it all took off. A few years later my brother and some of his school mates formed a school band. I went every Friday after school to his school and just watched how they played music. I was then asked to play percussion and also did some backing vocals. At home I experienced more and more on the spanish guitar. I tried to figure out how to play chords by using a guitar chordbook. My sister's boyfriend was singing in a band at the time and I knew he had a bass guitar at home and a P.A. system so I ask him if he would lend me out his bass guitar and P.A. system. It was a precision bass look a like. After I increased my skills on bass, I went from playing percussion to bass guitar in the school band. We played lot's of covers such as Eric Clapton, Jimmy Hendrix, Dire Straits. I really got into playing the bass after listening to jazzrock and fusion on tapes which my brother received from his school mates and cd's from the keyboard player who brought them along by every visit at my home. I started my own CD collection with buying Level 42, A Physical Presence. Level 42 is a eighties jazzfunk formation from England which was formed around the bass guitarist Mark King. One song that really tickled my fingers called "Love Games". I also discovered more bass players which were a big influence; Stanley Clarke, Les Claypool, Jaco Pastorius to name a few. My progression from playing bass guitar toward the downtempo acidjazz sound on my debut CD was listening to music in the nineties in which the jazzdance/acid jazz scene in England took off and flew around Europe. Even MTV started to broadcast videoclips of Omar, Brand New Heavies, Jhelisa, Courtney Pine, Galliano etc. at that time.
Slackline Radio: What do you currently have loaded in your mp3 player or CD player at home?
Baseheadz: Soweto Kinch, Jay Dilla, Flying Lotus, The Roots, Squarepusher, 4Hero.
Slackline Radio: Describe how you hooked up with DJ Eniless and DJ Git Hyper for this latest release.
Baseheadz: DJ Eniless was the guitar player of my former band Agony of the First Child and I actually met him in the rehearsal room for the very first time along with the rest of the band. He actually started as a DJ/turntablist but his wide interest in music lead him to pick up an electric guitar and started to play in a metal band called ATM (Automatic Tell Machine). I met DJ Git Hyper in a CD store where he worked at.
Slackline Radio: And, what was the studio experience like? Describe the creational process for the sounds for your first full-length release as Baseheadz?
Baseheadz: The process for the sound of my full length release started in 1997. I had a home studio in which I record all the material on a digital workstation. Eniless brought his turntable, mixer and other equipment to my home. Every time I finished an arrangement I asked him to listen to the arrangement and he then finished it off from his perspective as a dj/turntablist. It was a great experience working that way and also very effective. The remix that Git did of the track "Chosen" was done in his own home studio using a sampler and other equipment. I finally finished the album in 2004. This is because of our busy schedules.
Slackline Radio: As you know, here at Slackline we have a passion for food. What are some of your favorite foods? Got a recipe to recommend to Slackline?
Baseheadz: My favorite food? Nice one!: Indian, Indonesian, vegetarian food.
A traditional Indian dish which I cook a lot is Chicken Masala:
* 6 pieces Thawed chicken, skinned
* 2 tsp Ground Coriander
* 2 tsp Masala
* to taste Red pepper powder
* dash of Garlic powder
* to taste Salt
* 1 tsp Ground jeera
* Soy sauce (or yogurt) (needed only if tandoori masala is used)
Directions:
If you are using the ready made tandoori paste then life is a lot easier. Replace all occurrences of masala and soy sauce (or yogurt) with the tandoori paste.
Take the chicken and make *deep* cuts in it (so that the Masalas seeps in quickly). If you are using soy sauce as the base, put some on the chicken pieces and let it seep in the cuts.
Rub in the Masalas as a mixture or one at a time. The idea is to let the Masalas seep in the cuts with the soy sauce. You can leave it for little while to seep in.
If you are using yogurt, you'll get a more authentic taste since the original TC is after all marinated in it. In this case, mix the Masalas in the yogurt first and then rub the stuff into the chicken cuts as before. The yogurt tends to leave a considerable amount of water behind. DON'T THROW THIS AWAY. Let it evaporate in the oven with the chicken. This will keep the pieces from getting dry if over-cooked. I have not faced the same problem with the soy sauce version (of dry chicken). Serve this all with rice and viola!
Slackline Radio: I am always interested in an artist's history. Sometimes the projects of earlier years will help meld one's later career. In the mid '90s you played with Agony of the First Child and released Breed on Marista records. Describe the sounds of Agony of the First Child on this release?
Baseheadz: The sound was a mix of funk and rock music. After Eniless left the band in 1998, we replaced him with a guitar player who had a metal music background. After a while the singer left the band and we had to replace him with another singer, but that was difficult. We ended up with singer who came from a emocore scene. The drummer left Agony of the First Child after playing 3 years and he was replaced by a funk rock drummer. At the end the whole sound changed from funkrock into emocore metal.
Slackline Radio: And, what are some of the other things outside of music which inspire you?
Baseheadz: Gandhi, Hinduïsm, politics, different cultures around the world.
Slackline Radio: Do you think Hinduism influences your music at all?
Baseheadz: Although I'm not practising Hinduïsm or any other religion at all, Hinduism still has a big influence in the state of mind I'm in and in my daily life, so in a way yes.
Slackline Radio: Websites like Myspace.com and internet radio stations have created a whole new platform for artists to be heard around the world. How do you feel the online community has helped spread the word about Basheadz and helped you get your music heard around the world?
Baseheadz: They helped me alot. Especially with promoting my music on independed internet radio stations like Slackline Radio. I think major record labels and mainstraim radio stations do have to watch their back because of the power of the internet and the speed in which internet radio stations and music online communities pop up like mushrooms. Even myspace is starting a legitimate download service on myspace so I guess, "Power to the people!"
Slackline Radio: Do you enjoy reproducing your music in a live setting? Where have you enjoyed playing music around the world as Baseheadz?
Baseheadz: I just love to play my music on stage and see or hear what the feedback is of the audience on what I've created. I've now changed my band into a smaller formation with me on bass, a second bass player, a guitar player and a dj/turntablist. Although I didn't play at all this year because I spend more time in the studio but you can expect live gigs later on this year and onwards. I'm trying to get my way to North America and Canada with my band so any serious gig request are welcome!
Thanks again, Satiesh, for speaking with Slackline. You can find out more about Baseheadz and hear the music he creates at CDBaby and Myspace. We are looking forward to the new releases from Baseheadz and you can be sure you will hear them first on Slackline Radio.