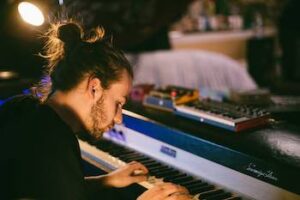 In Japanese culture, is there a pursuit of perfection? Or, is it just a desire to harmonize the wavelengths of this life? Their preparation of food conforms with their culture. Even if a Fugu certified chef leaves you questioning a rational need to seek their blowfish delicacy, it is hard to deny how this meal doesn't reflect their pursuit for excellence in this world.
Just like an amazing sushi roll filled with a variety of flavors and textures intended to delight your mouth, Natse mixes a multitude of aural tastes with his brand of instrumental beats. Although he may reside outside of Paris, it isn't difficult to gauge how he may follow the way of the samurai; the perfection of the craft, methods designed to deliver high effect. His electronic production is a measured approach influenced by the sounds of this island nation and beyond.
Today, we find ourselves peeking into the world of what is Tom Morant, the man behind the sound of Natse. Morant has developed a solid resume of unique creations of low-fi downbeat that skips from hip hop to dub to lounge. Slackline was curious to learn more about the personal side of Natse and what motivates him towards the perfection of his craft and the style of his music.
Slackline Radio: Where do we find you?
Natse: I am in my home studio with a coffee and a cigarette. I hear the birds of the forest in front of my house trying to complete the ambient album that is on.
Slackline Radio: Who is Natse? Tell us about your background and how you come to reside in Paris.
Natse: I actually don't reside in the capital but near Paris. I went to college there to study musicology but then I came back because I prefer the calm of living near the countryside. I have my home studio there and make music and beats almost every day for six years.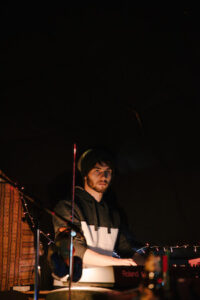 Slackline Radio: How long have you been recording your version of instrumental hip hop?
Natse: I created the Natse project and made my first beat tape « The Leaves » in 2017. Since then, I never really stopped and now I let the style evolve and try new directions.
Slackline Radio: Have you participated in other groups of other musical styles before?
Natse: I started music early and had a Rock band in middle and high school. Then we evolved into a a band called Cosmic Cow and we still play today when we have the chance to reunite again. We play and record a sort of Jazz / Math Rock fusion and it's a lot of fun ( some records can be found on Bandcamp actually ) .
Just before I started to make instrumental hip hop, I had a duo with the bassist of the band and we made Dub and reggae music. I also have another duo with a songwriter called K.O.Y and we made two EPs of lofi chill pop ( it's on spotify and youtube ).
Slackline Radio: Is music a primary focus? What is your dream job?
Natse: Music is my primary focus. I am currently trying to live off it but it takes a lot of time. I just started to compose music for video games and to sell it as Audio Assets for game developers on websites like Unreal Market Place under my own name Tom Morant. I hope it eventually evolves into developers directly hiring me for making the soundtracks of their game. I make music every day and it can be very different genres like Ambient, Electronica, dub, classical. I am currently creating other avatar for every style and they will come to life soon.
But if it wasn't music, I would love to make movies. It's not so far from music though. I love the craft of cinematography, from creating a story to editing. Also, it's a less lonely art.
Slackline Radio: Your music is an infusion of modern beats with sounds of the world. How do you gain the influence in your work?
Natse: It came from different things. I used to listen to a lot of french dub, especially artists like High Tone or Brain Damage. They used a lot of samples from traditional music from different cultures and I loved it. Then I started to work in a vinyl shop and I found records from everywhere in the world. It was my gold mine. Then a friend made me discover DJ Krush and it was a massive influence for my hip hop style. I wanted to mix the chillness of today's lofi scene and the mystical atmosphere of old and forgotten folklore of the world.
Slackline Radio: What is the special connection with the wind instruments in your music?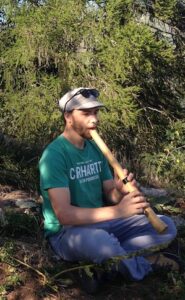 Natse: It started with the artists I talked about earlier, DJ Krush, High Tone… Then I went to Japan and bought a Shakuhachi Flute for beginner and I loved the sound. I am a very calm person and the character of wind instruments match with my vibe. Later I found a Chinese Xiao flute and an Armenian Duduk and was trying to learn it and use it in my beats. It was also the will to diversify from the instruments I knew then like the guitar and the piano.
Slackline Radio: What are your other passions outside of music? Do any of these feed your motivations in making new sounds?
Natse: I love writing. I love creating a fictional world and building stories around it. I wrote my first novel a few years ago and started another this year. Sometimes i can't or don't want to make music so I put words on the page. Also, video games, from small indie games to big open world, I love to lose myself in them. I play those games and listen to the soundtracks, I am inspired and the cycle continues.
I also love watching movies and anime. Horror movies are the best. And the filmography of Hayao Miyazaki have a special place in my mind. They will always be there and I think it can be heard sometimes in my music.
Slackline Radio: What should we be on the lookout for with Natse in the near future?
Natse: Another vinyl is coming next year with the German Label Dezi-Belle Records. Other smaller releases are coming soon, singles and mini tapes probably at the end of the year.
Also I am going to release my other projects under other names. Ambient and Electronic projects are coming !
Slackline Radio: What is on your plate or in your glass this evening?
Natse: A beer, no doubt 🙂