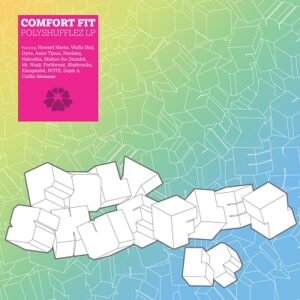 The world of hip hop can cross boundaries and expectations, and like many other musical styles, hip hop artists can transcend some of the stereotypes and misconceptions and deliver a new take on this expanding musical genre. It is easy to understand how some might cringe at the thought of hip hop that sometimes encompasses a theme of bling 'n booty. But, for artists like Comfort Fit, they show us that hip hop is beautiful with its bass heavy rhythms and lyrical heavy rhymes that can easily woo lovers of that great downtempo beat. Comfort Fit's Polyshufflez LP is a case in point.
Comfort Fit is from Germany and has been making his brand of music for many years. He released the successful Forget and Remember LP in 2005 on the Tokyo Dawn Records internet label to a world of admirers. Tokyo Dawn is one of those true pioneers as an internet label, releasing music for free. It may sound odd, and honestly, a bit confusing that an artist would release material for free. But, considering the waves of the internet are pushing free music across the web already, it may make sense to not fight the tide and just pump out free music to begin with. Four years later, we finally find CF releasing his next full-length release, Polyshufflez, on Tokyo Dawn that shows his fans what he has learned over the last few years.
The Polyshufflez LP is no small feat. It is chocked full with 22 tracks with numerous guest appearances from label mates and even reported drug traffickers. CF launches the album with a guest appearance from Howard Marks. This man has an interesting voice, almost as interesting as his personal history. "Mr. Nice" has been around the block trafficking hashish, making contacts with MI6 and the CIA, and serving 7 years in a federal penitentiary. "Ask the Devil" is eerie start track for the release with references to Lucifer. Maybe the vinyl release should be in your future to spin this thing backwards for a hidden motive.
Other guest appearances on Polyshufflez give this release depth and variety and CF shares the love by featuring Tokyo Dawn artists. Blaktroniks "Fired Up!" is a monologue on the destructive tendencies of the financial industry. Portformat shows us a little funky side with his addition on "Rock Da Dam". CF really lets us know where he is at with his solid solo productions like "Exabyte", "Bit by Bit", and "Superposition". But, the culmination may be felt near the middle of this release with the "Rendezvous – Dub" that features Mishoo the Drumkit and Mr. Nnaji. The soulful beat and wicked electronic experimentation will give this track high marks for most.
Comfort Fit's Polyshufflez is futuristic in its style but retains a connection with all that is right with hip hop of the past. It may take several listens for it to rub you in the right way. But, given the time you might begin to remove those shackles that keep you in a musical pigeonhole.
Track Listing:
1) Ask the Devil (feat. Howard Marks)
2) Exabyte
3) Yer Daddy (feat. Wallis Bird)
4) Oh I Don't Know (feat. Dyno)
5) Nu Metropolis
6) A Veces (feat. Anita Tijoux & Hordatoj)
7) Fuh Real (feat. Dyno & Naboobia)
8) Bit by Bit
9) Rendezvous – Dub (feat. Mishoo the Drumkit and Mr. Nnaji)
10) Rock Da Dam (feat. Portformat)
11) Fired Up! (feat. Blaktroniks)
12) Hanham vs. Steinitz – Blitz Chess Edit (feat. Klangstabil)
13) Snare Wars
14) Seen Not Heard (feat. NOTE)
15) Holyshufflez
16) Superposition
17) Ear is the Key (feat. Gajah)
18) Peter Pan
19) Wicked Game
20) Your Next Incarnation (feat. Caitlin Meissner)
21) Elmo
22) Drift to the Center