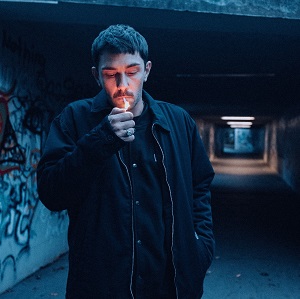 Figub Brazlevič is many things in this life; producer, hip-hop connoisseur, skateboard promoter, and more. FB is prolific and productive all in the same breath. On Wednesday, Figub managed to set aside some time to answer some questions for Slackline from across the pond after things slowed down a bit for him and the rain began to fall. He connects the dots for us on the link between hip-hop and skateboarding, the Krekpek label and their deck productions, and the continued progression of all things FB.
Slackline Radio: Where do you find yourself as you answer a few questions with Slackline? Breakfast, coffee, beer in hand?
Figub Brazlevič: I'm enjoying my coffee and smoke a spliff at 2pm in Zurich, Switzerland.
Slackline Radio: Tell us about Figub?
Figub Brazlevič: Well, my artist name is Figub Brazlevic and I am (mainly) a music producer from Germany. I started making Beats in 1996 when I was 13 and took it seriously from 1998. I'm going to be 40 years old next year and I think I reached my half-time in my career. Back in 1996 I started with Skateboarding too. These two elements form the foundation on which I still act today. The name Figub Brazlevic is fictitious. Before I had my first release in 2012 I was producing for 16 years. Fun fact: I have never worked with an Akai MPC or EMU SP-12 / Sp-1200 to make my music. I was just too broke, too young and all I wanted was making the music. I've never felt like a nerd. I wanted to be cool so I started with Breaking too. I was  sketching letters bevor I entered the world of Hip-Hop.
I was born in the University hospital in Tübingen, South-West Germany in 1983. My father is from former Yugoslavia (Bosnia) and my mother is German. My father was an early immigrant in the early 70s. So I was growing up in South-West Germany most of my life. I somehow don't see myself as a German nor a Bosnian. I consider myself as a European. When I was very young, I got around a lot through club football. When we were 14, my friends and I used to go to big cities to skate.
Slackline Radio: What's the family life like?
Figub Brazlevič: I don't have kids and I am single at the moment. But I moved down to Switzerland to be closer to my parents. They live in  Germany not far away from the Swiss boarder in my home town called Tuttlingen (which sounds close to Brooklyn haha). I try to see them as much as I can. We have a great connection. They're the best parents you can have!
Slackline Radio: How did your moniker, Figub, get established?
Figub Brazlevič: I think primarily through my music and the constant output. I'm very often a bit unconventional. The way I produce, the way I  think. I owe a lot of creativity to my quirky sense of humor to be honest. Back then, around 2011, there was a lot going on underground in Berlin. I was one of the few producers who could be seen at all hip-hop events and thus came into contact with what felt like 90% of the scene right from the start. A lot of rappers got me on their radar like that. I started the two Instrumental compilations by HHV and Vinyl-Digital (both Distributors) called  BEATS (MOABIT) VOL.1 and EXPEDITION: FROM GHETTOS TO GALAXIES. Also the MAN OF BOOOM – BACK TO THE BOOOM project was a huge success with Sichtexot Records from Germany, which also pressed my first vinyl record ever: OLDSCHOOL FUTURE. That is the term I am using to explain my style.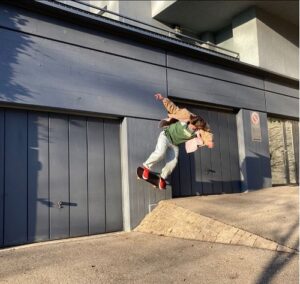 Slackline Radio: It seems that Germany is a melting pot with so many peeps migrating far and wide. How do you think this mixture has influenced the hip hop scene and the Krekpek label?
Figub Brazlevič: For this question I would like to briefly quote something from Wikipedia:
"Elements of American hip hop culture, such as graffiti art and breakdancing, diffused into Western Europe in the early 1980s. ….In addition to films, such as Wild Style and Beat Street, American soldiers stationed in Germany facilitated the introduction of hip hop music and culture into German pop culture. ….Many German hip hop artists are of Turkish-German descent, often second- and third-generation German citizens who grew up in comparatively poor or "tough" neighborhoods. Identification with their roots in neighborhoods remains an important aspect of the identity of  individual rappers and their "crews". ….When not rapping in English, many German rappers employ a dialect of German developed in these communities and which is therefore associated with immigrants and the German "ghetto". Using this language in their music, some academics have argued, enables them to levy criticism and protest aspects of society and politics that they perceive as having disadvantaged them and their communities. ….The shift of rapping from English into German increased hip hop's appeal to the German people, Gastarbeiter (guest workers) included. Growing self-confidence among Germany's immigrant population coincided with the use of the German language in German hip hop, and provided them with a vocal outlet in line with the plight of poor African Americans, out of which hip hop had originally emerged."
Nowadays it is undeniable that the migration from foreigners is the base of Hip-Hop culture worldwide. The family of my father were refugees because of the war in Bosnia and migrated in the United States, Sweden and Germany. I am mixed so I can relate to these topics from many ways. As a skateboarder, I also saw myself as a part of the skate community in which, in my opinion, nationalism or fascism has no place and would not take hold. I am grateful for that.
Krekpek's philosophy is simple: We don't care where you come from or what you look like. If you have a big heart and are passionate about your cause, then you are welcome with us. There is also a lot of reflection on current issues around the globe in our music. I work with a lot of artists from all over the world and I really like that about the current time. It works because we are connected. And we believe in this networking between open-minded artists from countries like Croatia, Slovenia, France, Palestine, USA, United Kingdom, Switzerland and many more. For me, as the head of Krekpek, it is a privilege to meet and exchange ideas with people from other cultures.
Slackline Radio: What new additions to your label should we be looking out for?
Figub Brazlevič: Guys like Raz Fresco (Rapper, Canada) Fadi Ammous (Rapper, Palestine), Heliocopta (Rapper, Germany) Sunny Sun (Producer, Slovenia), DaScientists (Producer, Germany), Luca Gozzo (Skateboarder, Sicily), Ever (Singer, Germany), Tremendous Aron (Drummer & Producer, Germany), Lenny20 (Rapper, Germany), Parental (Producer, France), Chris Cross (Producer, Germany), Big C (Rapper, France/Switzerland), Jazz Quarterz (Producer, Switzerland) so far. We are working constant on new artists and wish we can get our wishlist together one day.
Slackline Radio: I love what you are doing to support hip hop culture. Tell us what has drawn you into this world and musical space of hip hop?
Figub Brazlevič: Good question. I think I act a lot like my parents. They are so selfless and just great role models. Of course, I had to understand that first over the years, but I think that I appreciate their behavior very much and apply it to my environment. Often I can only say one sentence about my behavior or my visions: 1 +1 equals 2. I'm trying to say that I want to bring things that feel good together. The underground events are a good example: many of the acts I have booked would probably never have been invited to Berlin for a show as artists. I've been doing this consistently for more than 8 years. I was just aware that these many small things will lead to attention in many areas, so I can answer questions like yours because there is an interest.
It just feels right to do that "work". But there is also a need for growth in the team, a better online presence, networking and many other construction sites at the moment. I always try to be transparent with the respective artists in order to maintain harmony. I see the whole thing as very sporty. If a football team harmonizes, then the chance of winning the cup is very high.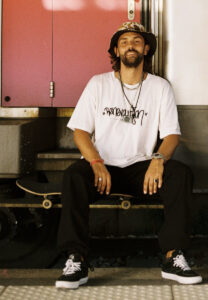 Slackline Radio: Any new skate decks in the works for Krekpek?
Figub Brazlevič: Yes, of course. We have Luca Gozzo from Sicily here with us right now and we're talking about the future of Krekpek skateboarding and if there will be a future. I don't doubt the fact that we have a story to tell. More than 20% of the Krekpek Fam are skating. Phil Tyler was the guy who helped me out with contacts. We recently dropped a single called KINGPINS together. Working also with Jon Wolf who is a well respected Skateboard Videographer. He is the key for the looks and the action on camera. I'm so happy to have such dope people around me and I hope I can push them to melt together in harmony to establish a real brand over time. Also my connection to the skate world helps of course. Due to another friend Nahuel Kirchhoff I was able to meet Jon who was a fan of certain albums I produced and he introduced me to Luca, who is the face and team rider n°1 for Krekpek Skateboarding. We want a new rise of the synergy between Hip-Hop (Music) and Skateboarding. Both cultures speak the same language.
Slackline Radio: What do you have in the works to promote hip hop culture locally or internationally?
Figub Brazlevič: First of all it is the content, the music. Then the visuals. I could put myself in front of the camera and speak all day about gossip or make beats or whatever. We are interested in the art in the first place, period. If that means we loose opportunities to make a lot of money for some Bs then I'm fine and won't regret. It has nothing to do with selling out or anything like that. The fact that we own our rights is important. I help my artists to understand important information instead of exploiting it. The Skateboarding topic is one of many ways to promote our art in the future. Some  things like a Newsletter are in the making. I think we have the disposition to exist as a music label & skateboard company for a long time. But someone has to do the work. I've been investing in this wonderful cause for most of my life now. Nevertheless, I would like to have a handful of cool guys on my team. 50/50 Male/Female in the best scenario.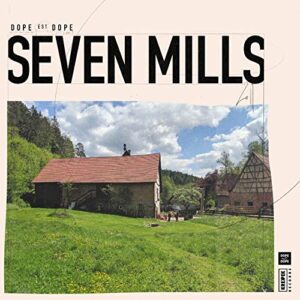 Slackline Radio: I am always curious about the creative process. How did the collaboration with Dope est Dope begin, what was it like to collaborate on Seven Mills, and what might you have learned/gained in the process?
Figub Brazlevič: Actually I wasn't really a part of the process of this album but I made it happen because I've invited 3 more Beat makers and 3 Singers to an old mill near Stuttgart of a very good friend of mine, Ari. She gave us 8 days to be creative and we used the time to record and enjoy time together. It was amazing. I'm glad that the Dope Est Dope guys recorded enough material to be able to form an EP from the time we've spent. It was an unforgettable moment for all of us I think. Babé Sila, Arletis, Aylin, Shoo, Radsch, Dope Est Dope and me.
Slackline Radio: For those that may not know, what is the "East-West Sessions" and how did it get established?
Figub Brazlevič: As earlier mentioned I was a guest at multiple Hip-Hop events in Berlin. From Freestyle Rap Cyphers to Beatmaker nights to Jam Sessions. I thought I could bring them all together as I witnessed that most of the people from each event never showed up at the other events. I can't remember how many artists we had, but it was intense. Most of the time the artists stayed at my apartment during this time and I became friends with many. In return I was invited to many different places too. Artists like IAMDDB had their first appearance in Berlin or even out of their country. We had a time when we produced 7inch records with HHV together. We always gave 100 limited copies to the people who paid regular entry for free. This was huge and never been done before. The clue was that you had a record of the artists of that same night playing. What an effort man, I am missing this action badly. I will probably continue by the end of the year.
Slackline Radio: Do you have any positive takeaways with your music production from the pandemic?
Figub Brazlevič: Yes, I was able to finish a whole lot of projects. And I was able to manage Krekpek from an idea into a company. I was nice to have some rest, but over all I won't miss this time.
Slackline Radio: What's on the menu for your dinner tonight?
Figub Brazlevič: Foccacia
Peace and love to Figub for sharing a healthy bite of his world with our readers. Be sure to check out Figub's releases, his future productions with others, and the next skateboard deck up at Team Krekpek.