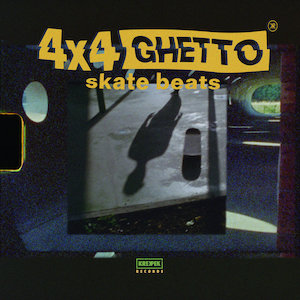 For them, it was all about getting downtown. Before skateboarding turned mainstream and the police knew what they were up to, you'd find the likes of Bones Brigade filming on the one-way streets of San Fran to catch a grind on those artistic stair handrails and curbside road furniture. That anti-establishment culture kept it apart from uniform sports. But then again, having an alternative outlet was the key to keep many of those kids out of trouble and stay focused on their next ollie PR.
Nearly 40 years later, the obsession with boards has never been stronger. The main components really haven't changed much but the stakes keep getting higher. With each new landed trick you wonder how did Lance Mountain's knees survive the test of time? And that music from Animal Chin was truly generational. So, it only is natural for today's riders to seek a new soundtrack. So much of instrumental hip hop aligns with boarding of today and it isn't difficult to understand how Figub represents the next sound for that concrete pipe.
Truly, Figub hails from Germany. From early days, he quickly became immersed in the hip hop lifestyle in keats like Tuttlingen. He's managed a lot in the last 20 plus years, collaborating with the likes of MC Rene, Tek, Phil Tyler, and others, opening up access to so many he produces on his Krekpek label. But, when he puts down his own beats you can understand where he is coming from. Tastes of jazz, roots of funk, or even some ambient synths are not off limits.
Now, FB gives us his latest work, 4 x 4 Ghetto Skate Beats. He delivers us head nods with each downbeat, instrumental hip hop creation. Lyrics are limited here but his track titles speak volumes. Rock to Fakie is like a long lost 70s soundtrack remastered to today's tricked out skate standards. Rick James is out there somewhere on a Krekpek deck giving his all on SOTY. You can even feel the youth and innocence in that piano on Rayssa Leal, a reference to that Brazilian teenager who landed a silver medal in Tokyo. It ends with a spanish kickflip, Patineta, a last tip to this jazz rendition of hip hop in the world of skateboarding.
Track Listing:
The Nine Club (ft. Derkalavier)
Rock to Fakie
SOTY (Skater of the Year) (ft. Derkalavier & Kianush)
From a Different Cloth
MACBA Hektics (ft. Kianush)
Rayssa Leal (ft. Derkalavier)
Yacht Rock Boogie (ft. Sixcube & Kianush)
Patineta (ft. Spacekonsta)
Listen here