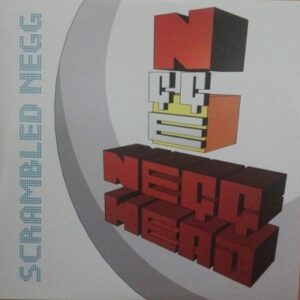 At one time, my daily diet consisted primarily of Pork. The variety of flavors were powerful and complimented just about anything during my day. Whether it was exercise, work, or relaxation, Pork made its way into my ears to elevate my mood. Those days are gone with the dissolution of the Pork Recordings label from the UK. These days my ear turns to Wax On Records, another UK label producing pleasing sounds. Their roster includes Negghead, an up and coming beat master. His beautiful sounds have a similar taste to Pork even if it may be a reference to another carnivorous treat, the egg.
If you have been checking out the Wax On compilations released to date, you have no doubt been pleased and teased with Negghead's vibe. After releasing several EPs and contributing singles on Wax On, the wait is over as Negghead steps out with his first full-length release, Scrabled Negg. You will find previously released material as well as brand new tracks on this masterful sampler of heavy beats and soulful vibes.
"Philharmonic" speaks like an orchestrated ballad that culminates with a female vocal. Background strings portray a somber and intense mood that is evident in a woman's choral. Other songs such as "Shifting Sands" sound like the soundtrack for a summer beach party. That comes as no surprise because Negghead is definitely influenced from days spinning at the 'Wax Da Beach' parties with DJ E.A.S.E. (Nightmares on Wax) on Ibiza. Other tracks are singular in themselves like "Know The Score." Its funky keyboards mingle with synths that echo with delight.
These days Pork is more associated with other terms such as H1N1, Swine Flu, or Hamthrax. In a world filled with negative references to the pig, it is nice to have Wax On producing quality and uplifting beats. They show us that the future of electronic music from artists like Negghead may have a real impact on any coming plague.
Track Listing:
1. Philharmonic
2. Shifting Sands
3. Reporter
4. You
5. Baby Baby
6. Didn't I
7. Boster No. 1
8. Being
9. Life
10. Know the Score
11. Build it Up (Break it Down Mix)
12. Super Skeleton