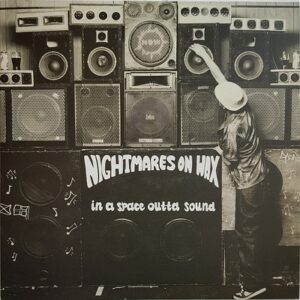 Suddenly, I am in Trenchtown with a young Bob as he experiments with Ska. His fingers are making their way across the strings of his guitar when I notice he's sitting on an 18 inch woofer. Wait a second. When did Bob have dual turntables and those light effects? That's when I realize that Nightmares on Wax have reinvented themselves, once again.
Nightmares on Wax have always been impressive with their ability to pull together music worthy of headphones. Works such as Mind Elevation (2002) have guaranteed themselves a permanent spot on the shelf of any lounge/electronic/downtempo aficionado's collection. It is one of the things that is just right in the world and can be appreciated during almost any part of the day.
Outta Sound picks up where they left off, but clearly they have emptied out their pockets of all the goods for this release. It is a mixture of tasty new sounds from the Caribbean and Africa infused with electronic beats and samples. It is also a mixture of the familiar sounds that make them recognizable. Don't pass up the opportunity to reacquaint yourself with Nightmares on Wax with Outta Sound.