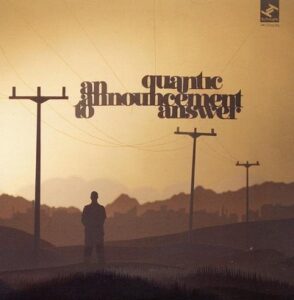 As An Announcement to Answer begins, a sudden craving overwhelms me. I must search the contents of my fridge items for mint. If only I could make a Mojito then I could really feel at peace as I slide back into my headphones. But before this desire for a beverage can consume me, I get distracted and suddenly have a flashback to my early musical collection. This stuff is Fela reborn. Whatever it is Quantic is doing here on Announcement, it has taken control of my right foot, and I am fine with that.
This young Brit already has 4 full releases not to mention numerous singles and collaborations under his belt by the age of 26. He has a great ear for recognizing those worldly rhythms that melt easily in a pot of stiff riffs and heavy beats. His growth as a dj shows on each subsequent release with his solid production work. Some of his excellence surely comes from the skills learned with his side projects. He has released two full length albums under the moniker Quantic Soul Orchestra. Here he practices his true musician skills to produce a melody with a funkier flavor. But, the truth is Quantic is a record digger of monumental proportions and he spins a dizzying array of sounds on his recent release.
He has stepped on from previous stellar works like The 5th Exotic and Mishaps Happening. On Announcement, Quantic serves up treats of his more recent bin raids from around the world. In addition, he has selective included guest appearances by some gifted vocalists and intelligent musicians. This release was created over a year and a half as he traveled the world. Some of the tracks here were never even created in a studio. Horn arrangements would be recorded in one location and the layer subsequently added somewhere else. We definitely live in the Information Age when music is made across the internet, never recorded in the real time.
Quantic takes us along on his tour as we travel first class to some of the warmer climates of the world. Case in point, "Politick Society" is served ripe with tropical sounds and the vocal strength of Noelle Scaggs seriously transfers the heat. Noelle's soulful singing has rightfully earned her many praises with the L.A septet, The Rebirth. "Meet Me At the Pomegranate Tree" follows and delivers a perfectly upbeat score of guitar rhythms with an excellent string arrangement. Later on "Sabor," Quantic has included the percussive abilities of Tempo Alamar from the Candela All Stars. His induction as an elite member of the Candela in Peurto Rico pays dividends with the regional island sounds on this track. Later, Ohmega Watts, a label-mate from Ubiquity in the U.S., was tapped for some hip hop rhymes on "Ticket To Know Where." It is clear from the nine tracks on Announcement that the year and a half of production work for this release has created something to be talked about and listened to for a long time to come.