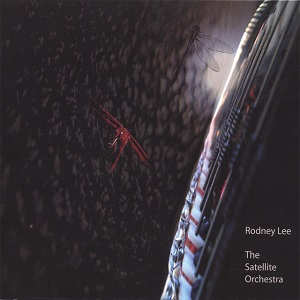 Music has the ability of bringing back memories. Smells and even tastes can be remembered as a song triggers an event from the past. Pulling out something from the catalog of Jimmy Smith instantly takes me back to the scent of cigars and the visual surroundings of a small venue on 6th Street where I was introduced to this legend in a live performance. Even stranger is when a current artist's sound invokes the feelings of a past musician's style. The music may be familiar but altogether new with a unique personal influence. On Rodney Lee's The Satellite Orchestra, he has put together a collection of his own music with a sound that spans time. It is a look into the past and a glimpse into the future of jazz.
Rodney is a previous Austinite who relocated to Los Angeles several years ago. He has built an incredibly diverse resume as a musician, writer, and producer. In one moment you may catch him as the musical director for Jody Watley and the next he may be producing for Chris Standring. He even has scored music for television. Indeed, diversity in life is good. Every biologist will tell you how diversity is healthy for an ecosystem. Clearly, diversity in music is healthy for Rodney because on The Satellite Orchestra we hear the beautiful complexity of his sound that is structured around the notes of his Fender Rhodes electric keyboard.
This album awakens me with the spirit and style of some of the greats in the nujazz genre like Zero 7. "Atmosphere" begins our introduction with a progression of nice electronic samples that are never too heavy. The only thing that becomes immediately heavy is Rodney's fingers on the Fender. Here, Rodney presents his keyboard skill, and he never goes overboard. He takes us on a nice flight of subtle keys with a groovy backline bass sequence. Strings are also provided on this introductory track to clear the air on "Atmosphere." It allows us to hear how Rodney is a good overall producer.
The Satellite Orchestra continues to break through the clouds of my memory. It feels like it should have been in my collection long ago. However, on each track Rodney announces its originality. Case in point, "Nu Dimension" is an xcellent downtempo composition of electronica and nujazz. Rodney works in more electronic sounds including some relaxing percussion. In a nice change of pace, vocals are added in some of the later funky sounding tracks like "Electric Smile." Others carry a softer electronic sound but still remain infectious. "Soul Habitz" picks up where Herbie Hancock left off, traveling the distance to a picture perfect landing of electronica infused jazz. Rodney Lee has logged a flight plan and is ready to take you on a departure to The Satellite Orchestra. Thanks, Rodney, for sending an all-expense paid ticket to Slackline Radio.
Find out more about Rodney on his website.