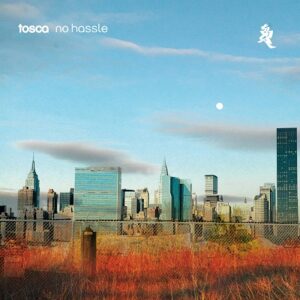 Classic is like a vintage Porsche. The lines and curves of its shape are timeless, evoking a reaction that is comforting in its familiarity. The designers stay true to its original inception, striving to modernize while maintaining a tie to the past. Tosca is just like that famed sports car. With each new release, their sound is refined but never deviates from their formula. On their latest release "No Hassle", these two Viennese downtempo greats continue to demonstrate they are well-oiled machines, achieving a higher standard while maintaining the elements of their characteristic sound.
On their last full length release "J.A.C.", Tosca was saluting fatherhood as both Dorfmeister and Huber entered another phase in their lives with the birth of children. Having kids can no doubt have a profound effect on one's outlook on life. Maybe it is this new life journey that inspires a new introspective sound on their latest release. Or, maybe it is just wisdom from writing music together over the last 15 years. For Tosca, No Hassle is a life motto, "a personal reaction to everything, to all things that are pressuring you from outside."
The underlying tones and pulses of Tosca's sound are still here but the style slides away from some of their more danceable releases. Instead, you will find an hour of sound waves where moods are discernible. Lead vocals are non-existent, relying more on real instruments overlaid with their signature elements. Each track carries a calming rhythm and it is truly hard to single out one track that out performs another. That's because their intent on this release is to create a musical event where the whole album flows seamlessly. It's an achieved goal. Be prepared for commitment and responsibility even if you aren't married or don't have kids. Because, you will most certainly have to dedicate a full hour of your time when listening to this one.
Track Listing:
1) My First
2) Elitsa
3) Springer
4) Birthday
5) Oysters in May
6) Joe si ha
7) Elektra Bregenz
8) Fondue
10) Rosa
11) Raymondo
12) Mrs. Bongo
13) No Hassle