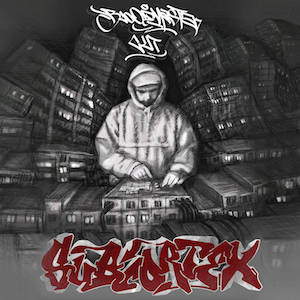 On Bloodmasta Cut's newest release, Subcortex, we are reminded of what it is like to be kids again. At first, we are easily distracted. With so many new experiences flowing inward, it is difficult to focus. We have an insatiable appetite to push boundaries. But at some point, there is that switch that transformers the distracted. And in that moment, there is a realization, a connection of the importance of their world. They can peer down a telescopic view beyond the edge of this planet, find the rings of Saturn, and suddenly realize there is just more to learn.
Bloodmasta Cut has sharpened his own focus and improved his skills on Subcortex. He proves that his educational journey with boom bap is far from over. He has taken his youthful skills and knowledge to date working with Kick a Dope Verse! and packaged them into this mature and other worldly release. There is still that connection to the hard hitting style of the genre, but there is a gentler more approachable sound on Subcortex that needs to be heard.
It is not clear if the listener must have a truly developed subcortex to appreciate the sounds on this release. But, it might help you perceive all that is present on this record. Right from the gate, Mystical Village provides a spacey backdrop that is the perfect compliment at viewing Jupiter's Great Red Spot. Slow, methodical beats are laid against keys and horns with impeccable production. Heavy Way is a reflection of those underground jazz sounds heard below the street in Austin's Elephant Room. A muted trumpet set against a deep piano loop is pure bliss. Even amongst all the bass and snare drum beauty that this release showcases, BC is not afraid of stepping outside of the norm on Sleeping City. A lighter side of a rhythmic beat is combined with a flute and atmospherics. It's as if he is providing the listener a lesson, of all he has learned, and all he has to offer.
Track Listing:
Mystical Village
Black Work
Blooming Paranoia
Fake False
Ghostdog
Heavy Way
Roots Underground
Shaded
Street Shadow
Sleeping City
Listen here.