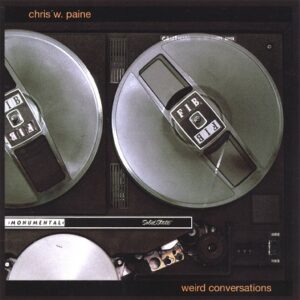 Austin, Texas has always been known as a center for aspiring new musicians. In the past, these musicians were mostly made up jam bands or country western acts set in honky tonks. Today, Austin is a more diverse musical scene where South X Southwest converges every year to showcase the hundreds of musical venues in town. Luckily, artists like Chris W. Paine have immerged from Austin's music scene to prove that good electronic music can be found in this southern town.
Chris W. Paine has released Weird Conversations, a collection of music sophisticated enough to give you the impression it was developed somewhere else. This album is a solid collection where Chris uses his skill as a guitarist and great noise work from Justin Pierret to create interesting soundscapes. It spans the spectrum from wicked trip-hop to futuristic electronic flamenco to sensible electro-pop.
Weird Conversations opens with "Blissturbed." Here we find Chris leaving his comfort zone where no guitar work is found. Instead, "Blissturbed" delivers a fast-paced keyboard rhythm that transitions into a chorus of noises overlaid with a discernable background chant. His wife, Elise McMullen, contributes her vocals on this debut release and her additions here are useful at making this a well-rounded introduction of Chris's style. Next, "F.I.B." tells a hidden story. It seems Chris had a run-in with the F.B.I. after the album production and this track is a salute to all of those who love great spy music. Again, we find funky organ work but Chris showcases some of his guitar skills with a nice reverb. This feels like it could be straight from a '70s soundtrack if it wasn't for its modern appeal. "Wait Longer" is a shock to the system when it opens with an acoustic followed by upfront vocals. It has a pop sound that is quite different from the previous experience. Chris later returns with the title track which definitely makes the purchase of this album worth it. Here, Justin contributes great unusual sounds to a heavy bass line and piano rhythm. Chris uses echoes and sampling on "Weird Conversations" to create lush electronica. This album will even attract those Tosca fans with "Water Fat." A characteristic electronic echo persists here. He layers other familiar sounds and includes a guitar sample played in reverse.
One can only hope that Weird Conversations is a sign of change in the musical community within Austin. If others follow his path, the world of electronica would be a better place.