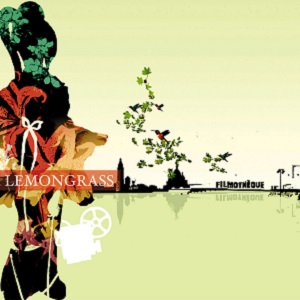 If you haven't been following the musical journey of Lemongrass, then now is the time to come up to speed. Their catalog includes the wondrous sounds of gems such as Windows, Fleur Solaire, and Time Tunnel from the back catalog of Mole Listening Pearls nearly 10 years ago. Now, Roland Voss, aka Lemongrass, is set to release Filmotheque, music for the big screen under the new direction of Lemongrass Music.
The curtain opens and you are immediately drawn in to an original score for Lemongrass. "Elle et Moi" is mesmerizing, worth the price of admission. Limited synthetic vibes are obvious as we find ourselves hearing beautiful piano, subtle rhythmic guitar, and a standup bass. A true jazz sound is born. But, just as you become settled in this new screenplay, Lemongrass overlays some characteristic drum work that tickles your memory. Unfortunately, this track leaves your grasp only after 3 minutes. In "Sakura", our eyes open wide to the expansive sound of a slow, strong string progression. The mind instantly begins to imagine the scene that accompanied such a large sound. The layers are so characteristically Lemongrass, and it is hard to not immediately latch on to this music with affection. The orchestration gets accompanied by such subtle beat work that it becomes difficult to judge the genre. Roland does a great job of exceeding expectations and delivers an incredible mood as we begin with Filmotheque.
The album continues to return to sounds of the past. "The Camera" shows you what it is like to groove to a well disciplined jazz quartet at Blues Alley. The band continues that jazz beat on "Fritz the Cat" as we hop to strokes of an electric guitar and short taps on the piano. You will find sadness enveloping you as Lemongrass takes you on a tour of the "Lonely Beach". Later, a soft sound on "Streets of Yokohama" introduces well thought out horns. Horns can have a tendency to be overwhelming. But, hats of to Roland and his crew for knowing what works. Their use returns on "Les Affaires". Here, you can only wonder what scene from what foreign movie invoked such creativity. As we depart the theatre, "Grass-hopper" perks up your mood with an uptempo work of quick guitar and more great piano. This album is over 65 minutes in duration and is an incredible soundtrack destined for an Oscar nod.
Clearly, Roland is returning to roots with the release of Filmotheque. It is such an incredible creation, something to see and hear. Be sure to get in line first on opening night when Filmotheque is set to release on February 23, 2007.