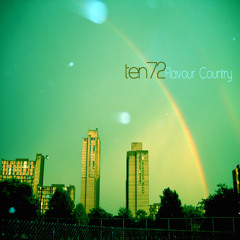 Evidently, Nils Westdal wears several hats in his musical career. He pulls out his Fedora when he becomes the partner behind the jazz-infused world of Keston & Westdal. He has contributed his work on two full-length releases for KestWest that include Super Structure Baby and Truth is Stranger. Their music together is singular and has defined a new niche in electronica. But, every artist must feel the need to have their individual style heard. In times like these, Nils also has a Gatsby that he pulls out as he walks solo behind the moniker, Ten72. He has released Flavour Country and it is another side of his musical personality worth getting to know.
Upon inspection, the image of the artwork for Flavour Country conjurs a sense of one's individual perspective. It's a moment in time where the right components come together to create a magical experience. On Flavour Country, Nils delivers his own vision. "Trickle" begins and is an intelligent combination of downtempo keyboards and a rhythm that is not somber but rather uplifting in a strange melancholy sort of way. It is easy to find yourself repeating this track due to its short duration. "Motomachi" ups the scale as we find a faster progression, layered with danceable keyboards. There is a lot going on in this creation but it moves forward gracefully like a crowd in this city's busy shopping district. "Baby Teeth" will have you searching your media player controls right from the start. It sounds broken as gaps of silence enter the electronic rhythm. There is no need to check your system because confusion will give way to understanding. Nils translates fluidity on this track as it becomes overlaid with creative, original sounds. Later, Nils shows a funkier side on "Awkward Party" with a background synthesizer in an off-key. A rather nice bass line compliments that displays his proficiency and the occasional piano solo adds complexity to this track.
In Ten72, Nils has found a great outlet for his personal expression. He has built an album that is a creative explosion of electronica with discernable jazz roots. Throughout the full hour, he shows us his own vision and what he is capable of on his own. A sound this big should undoubtedly not go on unheard.