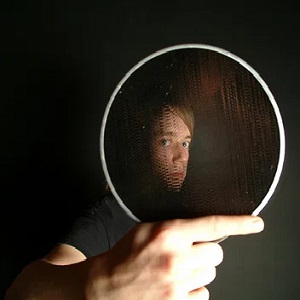 Boris Mezga is Comfort Fit from Stuttgart, Germany and he melds hip-hop with a downbeat sound into something every head-nodding, beat-loving individual can appreciate. After riding on the waves of the "Forget and Remember" release from 2005, Comfort Fit has released Polyshufflez on Tokyo Dawn Records in August of this year. Slackline Radio stole a few moments to learn a little about the new record and the world of Comfort Fit.
Slackline Radio: Who is Comfort Fit?
Comfort Fit: Comfort Fit is my major musical project. It's the pseudonym, which I use to release most of my compositions for over 10 years now – with a wide range from hip hop beats to ambient soundscapes and the typical shuffled rhythms as a common denominator.
From time to time I also invite guest musicians, especially to help me out with lyrical content. As you can hear extensively on my new album "Polyshufflez" which features the voices of people like Howard Marks, Caitlin Meissner, Gajah, Wallis Bird and many more.
My passion for electronic music has grown since a very young age. When I was 4 years old my parents bought a cheap Yamaha keyboard – nothing special – but it had this really advanced sampling unit integrated. You could record sounds over a microphone and then process it digitally: Reverse, Filtermodulation, Amplitudemodulation, Loops, Attacks and Decays….I mean, it was 1987, how wicked is this?
So, instead of playing songs, I began messing around with every sound source I could find. This little piece of crappy japanese consumer keyboard made me quickly become a little master in audio sampling. Later on I became keen on DJing and quickly proceeded to compose simple techno tracks with a Roland Groovebox. That was 1996. At that time my main influence was stuff from people like Jeff Mills, Richie Hawtin, Christian Vogel etc. Accidentally I made contact with MHZ Records, an industrial/electronica label, and they offered me to produce my first full length album – the "Museum" LP. That's how it all started. I always feel like there's this chain reaction going on in my life…for those who wanna get into details I'd suggest to check out the complete biography on www.comfortfit.de
Slackline Radio: For many, the idea of releasing free music on an internet label such as Tokyo Dawn seems a little crazy. Why you have decided to release Polyshufflez on Tokyo Dawn Records.
Comfort Fit: Haha, I think releasing music on a classic record label is crazy nowadays. Hardware sales are at their lowest point since years, nearly every hardware distributor is bankrupt. You can be happy to find even one independent record store in your home-town.
As far I can monitor it, my last albums 120mb zip package, the "Forget and Remember LP" has been downloaded over 60.000 times. P2P, Social community and direct track downloads not included. Now try to reach so many people with one vinyl release. Pretty hard I think.
In any way, Tokyo Dawn is a really cool and open minded collective. Don't be fooled by the word "free". This is high quality stuff made with tons of love and passion. Not to mention the technical knowledge….
Slackline Radio: What are some of the influences that helped direct the sound of Polyshufflez?
Comfort Fit: As I already said, I've been strongly influenced by the early 90ies Techno-Records with their incredible design of sterile but yet organic sounds. They captured a much more analogue and vibrant feeling than the "in the box" productions nowadays. That warm sound got lost over the last years I guess.
While I was producing the Polyshufflez LP I also listened to a lot of the early synthesizer pioneers: Jean Jacques Perrey, Delia Derbyshire and the Radiophonic Workshop of the BBC. Their very innocent approach to electronic music production is still a big inspiration for me. Obviously, the stuff from Madlib and the Stones Throw Crew also hits me very hard, alongside J.Dilla, Ninja Tunes, DJ Krush, various forms of jazz music, especially from the late 60ies and early 70ies Period, NuJazz like the Cinematic Orchestra etc.
But to be honest, I'm not a fan of endless name-dropping. In conclusion I'd say my main influences are quite different from what people might expect. I always try to listen to music that is style wise as far away as possible from my own musical output.
Slackline Radio: Tell us a little bit about Howard Marks and how you were able to work with him on your new record.
Comfort Fit: Howard Marks is better known as "Mr. Nice", which is also the name of his worldwide bestseller book. His biography seems really outta space: At the 70ies he smuggled tons of hash and marihuana around the globe, making millions of dollars with the aid of 40 different passports and identities. Later he got arrested but managed to get out quickly due to his good contacts to the CIA….man, there are so much stories to tell about this living legend – better read the book. Crazy shit.
Anyway, he's now doing this wicked movie called "God smoked". I was asked to contribute an exclusive beat for the movie score and had the possibility to meet Howard in person in a little greek restaurant down the street. We were having some red vine and greek specialties and I was like "Howard, I composed a beat for your movie. Now you gotta let me use your vocals for my new record or I won't pass you the spliff" Because he rather wanted to spend a calm and easy night he simply passed me the vocals…he's really a British gentlemen. And it's such a huge honour for me to have him on "Polyshufflez". He's doing the intro and kicks off the feeling for the whole LP.
Slackline Radio: You also worked with Blaktroniks on an interesting track for the new release called "Fired Up". Tell us about it.
Comfort Fit: What's the number one topic at the moment? Exactly, the world financial crisis. Everyone is affected by it. According to Edd Dee Pee from Blaktroniks it's just a result of the progressing virtualization of products and property. All we possess is virtual numbers, binary coded and stored on digital servers. There's no possibility to get "in touch" of a valuable product any more. We tend to loose contact to the material world. The system we invented for controlling the global cash flow breaks down.
This is what the track is all about. "If I cant eat it, smell it or touch it, I ain't buying shit, no way, so fuck it!" – the track's definitely one of my personal favourites on the LP. Cause the problem is so present. It's now.
Slackline Radio: You have completed music for commercials for automakers like Mercedes Benz. What do you enjoy about doing this kind of work and did you get a free car out of it?
Comfort Fit: First of all, producing music and sound FX is my passion. To have jobs that actually convert this passion into food is a really lucky circumstance. When it comes to advertisement, you should hit the listener/viewer within a few seconds or you loose him. With designing the audio content for e.g. a TV-Spot I can take a lot of lessons for my own productions. I learned to work faster and more focused, developed a more transparent work flow and a better feeling for compositional balance. Nevertheless I always have to keep in mind that, whenever I work for customers, the main purpose is to get their visions realized. What can be quite confusing sometimes ("We need something that sounds like U2!") But also really satisfying when executed well.
Unfortunately I never ever got any free cars or helicopters out of it. But I managed to buy a new saddle for my bike. Lucky me.
Slackline Radio: Manual or automatic transmission?
Comfort Fit: None of that stuff. I love my bicycle. Only "muscle transmission" – besides all the studio-sessions, it's a healthy contrast to get on the bike and suck up some fresh air and daylight. You can't get any parking spaces in this town anyway…
Slackline Radio: It is good to hear that you don't shy away from playing live electronic music. Tell us about your instrument set up for live shows, from the most complex to the simplest.
Comfort Fit: Playing electronic music live is a totally refreshing experience. In contrast to the studio, where you spent most of the time alone, you get the instant feedback of the listeners. You break the isolation. You feel them. And they are able to feel you. And they even can feel you much better at high dB levels. Honestly. It's amazing to sense the vibrations, generated by my brain, calculated by a software and transmitted live to their brains. Every moment is beautiful and can't be captured. Every tweak is unique.
Nowadays it has become one of the main tasks for a musician to play live and I always try to find ways to transfer my tracks on stage. I even have a special bunch of unreleased tracks that I play live exclusively.
My stage set-up consists of 2 Akai Controllers alongside a 17" Touchscreen, because I hate using the mouse on stage. I prefer to get in touch with the music. The sound engine is Propellerheads Reason – the most stable audio app I know so far – also in extensive use on my records. I know it like the back of my hand.
This few tools can cause earthquakes when connected properly.
Slackline Radio: On a personal side, what are the other things in life that help you get out of bed.
Comfort Fit: The little things. And the people I love.
Slackline Radio: What's for dinner or breakfast? What time is it anyway?
Comfort Fit: It's 10.14 a.m. Thanks for your invitation and comfortable greetz to all the slackline listeners!