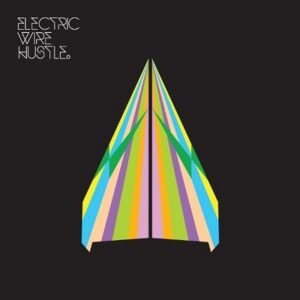 Is there something about being on an island that creates a wealth of creativity? Did Bob Marley have an identity crisis on the island of Jamaica that helped motivate him to become the father of reggae? I am only asking cause it seems that Kiwis these days are classic examples where island living is leading to some great music production. If you haven't been keeping an eye on the sounds broadcasting from the shores of New Zealand, now may be the time to get on board and take notice of Electric Wire Hustle.
Electric Wire Hustle's first self-titled release on Benny Tone's Organik Muzik Workz label is a beautiful mix of genres. Mara Tk brings soulful lyrics laid over the rhythmical percussion brought on by Myele Manzanza. And, Taay Ninh is the driving force behind this trio who brings his wealth of experience to the table behind keys and the like. Think Steve Spacek meets Flying Lotus and you are just about there. These guys deliver serious beats, grounded in funk, soul and jazz, but, it is the futuristic elements of hip-hop that really put their music in a class all its own.
Recommendations abound on this release, but there is no reason why you shouldn't just start from the beginning with "Waters." Slow beats introduce Mara's vocals and you are instantly greeted with a smile across your face. "Gimme that Kinda" just keeps on delivering as it rolls with each beat drop and subtle horns pop against Ninh's keys in the background. And, then "Perception" just grabs hold like a Marvin Gaye soul ballad. I won't leave you with any more verbosity, only to say this release ranks high on our best yet of 2009.
Track Listing
1. Waters
2. Gimme that Kinda
3. Perception
4. Again
5. Walk on feat. Stacy Epps
6. Buy Some Land Put a House On It
7. This World feat. Georgia Anne Muldrow
8. Thank You Steve
9. Jupiter feat. Declaime
10. Burn feat. Billy TK
11. Chaser
12. They Don't Want
13. Tom Boy