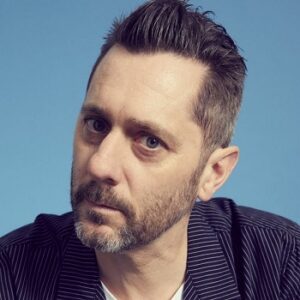 Sola Rosa resides in the southern hemisphere on the island nation of New Zealand producing his signature sounds for nearly a decade. Sola Rosa is actually Andrew Spraggon, a man of many talents. We caught up with Spraggon and exchanged a few words just after a recent road trip promoting the new release, Get it Together, to hear about his new life as a father, crate digging, and what his other life might have been.
Slackline Radio: Sola Rosa is headed for the road in New Zealand even as we speak to promote the latest release, Get it Together. Tell us about the schedule, some new spots you might be visiting, and how the new release differs from some of the earlier Sola Rosa records.
Solar Rosa: Well I'm a bit late in my response sorry so I'm not writing this post touring. We went to the main centres of New Zealand (Dunedin, Christchurch, Wellington and Auckland). Then we travelled to Brisbane, Australia to play the Big Sound Music Summit. Kind of like SXSW in Austin Texas, but on a smaller scale. We stayed in Brisbane for two days, then it was on to Sydney to play in Bondi.
Sola Rosa was initially a solo project. Over the years its become a kick ass band. Get It Together is more of a live record than previous efforts. In the early days there was far more sampling going down.
Slackline Radio: You have a regular, weekly spot on BASE FM 107.3 in Auckland called The Spragga Selection. What do you enjoy about terrestrial radio as a dj and what sounds do you explore under this different moniker?
Solar Rosa: DJing gets me out of the house and keeps me inspired by new music. DJing weekly, you constantly have to search out new tunes so that keeps me digging, even though its mostly digital these days. I play all sorts really – funk, soul, jazz, hip-hop, latin, reggae etc.
Slackline Radio: So, how big is it, your vinyl collection, of course, and what do you seek in the bins these days?
Solar Rosa: My vinyl collection is reasonably big – i don't know how many exactly but mostly they just gather dust. I'm lazy with listening so i mostly play the iPod. I don't buy bugger all vinyl these days – sad to say.
Slackline Radio: New Zealand has sprouted a collective of great artists. Give us a lesson in the New Zealand music scene, the good, the bad, and the ugly.
Solar Rosa: I have no idea why we are so into music. could be the small island mentality – Jamaica, Cuba etc. We feel like we have something to prove I guess so we strive for originality. That being said, there is some shit music coming out of NZ but its the same anywhere.
Slackline Radio: Tell us a little about your feelings regarding the purchase of your music by Warner Records?
Solar Rosa: Well I was signed to FMR, who then got bought out buy Warners. That was the end of an era really. I went from being respected and looked after as an artist to a nobody. I then decided that it was time for me to leave the label and go independent. Best move I've ever made. Although I can see the benefit of major labels when it comes to financial support.
Slackline Radio: How has fatherhood affected your musical career? Has it sparked a new wave of creativity?
Solar Rosa: Fatherhood made me sort my shit out and get things together. Hence the album title. I'm not going to wax on about how amazing it is and that it has changed me. I mean, it has in ways and I love my daughter dearly but I'm still the same guy, I just work harder and piss around less.
Slackline Radio: The Red Bull Music Academy has fostered an incredible resource for music lovers and creators worldwide. Tell us about your involvement with the Red Bull Studio in New Zealand and what it represents.
Solar Rosa: Red Bull are strong in supporting the arts and sports. For some reason they like what we do and have stuck with us over the years. its a good relationship. Without the use of their studio Get It Together would be something entirely different.
Slackline Radio: Beaches or mountains?
Solar Rosa: Beaches
Slackline Radio: What might your other profession be, if given the opportunity?
Solar Rosa: Chef
Slackline Radio: Word is you might have a weak spot for a culinary treat? What will you be treating yourself with at dinner?
Solar Rosa: Airline food… mmm…mmm.