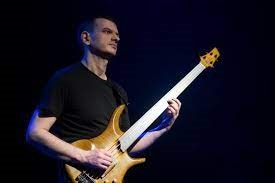 Costas Andreou resides in Athens, Greece where he has been writing and producing electronic music for many years. He is a skilled musician and has participated in numerous projects. He recently released his second full length album, Dolphin Dreams, which incorporates his knowledge of electronic looping techniques and fretless bass guitar. I spoke with Costas about his musical history as well as his new release.
Costas Andreou: Everything you hear, except of the percussion and the beats, is fretless electric bass, processed with analog and digital effects and looped in real time, using various live looping techniques and a number of delay, feedback, tape and loop devices. The textures, the themes, the melodies and the soundscapes are created via improvisation and often are further processed during mixing. I like to perform in real time and use bass as a source to produce all kinds of sounds. I get inspired by music, but also a lot of creative energy comes from the surrounding environment and people. Inspiration may come from a great album, but also from an actor's flowing energy, a strange every-day sound, a crowd's motion.
Dolphin Dreams is built with a truely organic sound. Each track flows with experimental electronica where the stroke of the bass strings move the progression forward. It straddles the fence between serious downtempo and a heady cinematic soundtrack. That makes sense because Costas actively writes music for theatrical performances. It is an influence that is recognizable on Dolphin Dreams. This is the album for that movie that you have never seen. I was intrigued about his work in theatre and how it effects his solo compositions.
Costas Andreou: I enjoy working for theatre very much. I began working for the theatre.
Slackline Radio: It definitely has an impact on your sound.
Costas Andreou: Yes, I believe that too.
Slackline Radio: How do you compose your music for a theatrical work?
Costas Andreou: There are two possibilities. If the music is going to be recorded and then played back during the show and secondly, if I am going to perform live, which I usually prefer and suggest to the directors if the score is going to be recorded. I do some meetings with the director sometimes they know exactly what they want, sometimes it is up to me to make decisions.
Slackline Radio: So, is it safe to say that it is never improvisational?
Costas Andreou: Actually it is very improvisational.
Slackline Radio: Interesting.
Costas Andreou: Because when the director describes a sound to you have to experiment until there is satisfaction and if the music is live, then there is more freedom. And, I am able to use microdynamics to follow the energy of the actors on stage when I am going to play live. I go to all the rehearsals, set up my gear and follow the play from start to end. I actually rehearse with the actors as if the music was an actor itself. This means long hours of work every day but it is very rewarding.
Slackline Radio: Are you recording your music during a rehearsal?
Costas Andreou: No.
Slackline Radio: So, it is repeated from memory? Or, are you writing the music?
Costas Andreou: I do write the music, the themes, the parts, the melodies. But, I perform it live so it is not a sterile playback. It breathes and follows, the energy of the moment. For example, I may have to play a melody for 50 seconds and stop when an actor says a particular word. But, it happens that the actor may say the word a bit later or earlier if the music was recorded/locked in a cd. Then, the actor would be on his own. He would have to chase the music. But, if it is live, I can follow the action and this contributes to the overall feel.
Slackline Radio: Attending the rehearsals sounds very important because you would need to see the cues, when an actor may say something.
Costas Andreou: Yes. I learn the play and follow along after a few rehearsals. I know the whole play so it is easy to follow. This is also good because the director can do changes on the fly.
Slackline Radio: It is very flexible. One performance is different from all of the rest. How many performances have you written music for?
Costas Andreou: I have written music for 12 productions so far.
Slackline Radio: And, how did it begin?
Costas Andreou: A director approached me.
Slackline Radio: Why did the director approach you, because of your previous musical experience?
Costas Andreou: Yes. He liked my sound, I guess the way I approached music as a live situation.
Slackline Radio: I see.
Costas Andreou: After playing for his production one thing lead into another.
Slackline Radio: What kind of work were you doing prior to starting the theatrical work?
Costas Andreou: Studio work as a musician and as a sound engineer. I have plans to release the music I have written for theatre so far.
Slackline Radio: Excellent.
Costas Andreou: There is lots of material.
It appears his musical aspirations extend beyond the electronic sounds of his theatrical work. In addition to the plays and dance groups he has participated with, Costas has played in other musical acts including Nudu, Dr. Atomik, and with Damo Suzuki (www.damosuzuki.de).
Slackline Radio: What are some of your future projects?
Costas Andreou: I will play live on 1 September 2006 at Palazzo Ducale, at the Castel Dei Mondi Festival in Andria, Italy with the Per Boysen Network. The Boysen Network Ensemble is a collaboration between Per Boysen (sax, flute, loops, electronics), Eva Almer (vocals), Eric Forsmark (percussion, visuals) and myself.
Slackline Radio: And the sound?
Costas Andreou: Well…
Slackline Radio: Hard to describe?
Costas Andreou: Me and Per work a lot with loopers. Eric will do a custom percussion instrument, a big canvas on which he will paint, and make sounds at the same time with the brushes.
Slackline Radio: Sounds incredible, a multimedia experiment.
Costas Andreou: And, Eva will contribute with her amazing etheral vocals. So, from ambient to dub to jazz improvisation to free improvisation, many elements combined.
Slackline Radio: Have you released anything with this project?
Costas Andreou: No. This is the first time we will work together. Me and Per are working on a duo project at this time.
Slackline Radio: Do you plan to release anything in the future with this project or others?
Costas Andreou: Yes. The collaboration project between me and Per is going to be released when finished. Bass & sax, ambient/dub sound and also my previous theatre work.
Slackline Radio: That's great, be sure to keep Slackline in the loop on your future work.
Costas Andreou: Yes, I will definitely let you know.
Slackline Radio: And, good luck in italy!
Indeed, Costas seems to be a busy man, managing his musical theatrical work, solo projects, and other collaborations. I am sure we will be hearing more interesting sounds from Costas Andreou in the near future. Stay in touch with Costas at http://www.costasandreou.com/. Be sure that we will keep you posted.