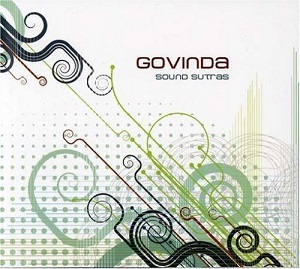 Sometimes artists release new material that strays from their past. Perhaps it's because these artists feel compelled to push across other styles and genres in an effort to help grow musically. For others, a sound may be so unique that there is no need to move away from a good thing. Govinda (aka Shane O Madden), has instead taken the time to enrich his style with each release. The combination of world instruments and vocals united with expansive electronica is his signature, and on his new release, Sound Sutras, he continues to take his time and explore all the corners, nooks, and crannies of his familiar sound. But don't tag Sound Sutras as a carbon copy of Worlds Within.
Govinda is Shane O Madden who hails from Austin, Texas in the heart of the hill country. Maybe it is the sometimes endless summer of Austin that provides inspiration for infusing the sounds from other musical climates. Or maybe it is being half-Lebanese that drives the direction of his work. Whatever the reason, the name Govinda clearly reveals the formula for his worldly music. On each of his previous five releases, one finds Indian, Middle Eastern, Spanish, and even Celtic influences that are ubiquitous throughout. Taken with these sounds, he melds trippy and seductive electronic beats that echo with a danceable rhythm that are present on his new release, Sound Sutras.
Many can get the sense that electronic music has lost originality as it relies heavily on the digital assistance of sampling and beat work. But, when you put the force of real creativity behind the endless possibilities of the digital realm, you can disprove those theories quickly. Govinda's 20 years of classical training show in his compositions, and his experience with instruments like the violin and guitar are enough to deliver complexity. On Sound Sutras, Govinda brings more of the same.
Sound Sutras begins with the downbeat "Breathe You In" that offers a return guest vocal contribution from Amy Atchley. Her voice is dead on, creating a memorable sound for the opener. Madden's violin works elegantly as Atchley breaks in over a poppy beat. Atchley thankfully returns on "Can't Forget the Day" to show off her sultry ways. Madden must be pleased to have such an exotic voice in his neighborhood of Austin. By this time, we realize that Sound Sutras is moving down a discernable downtempo path, with a play on more western influences than was heard in his previous album Worlds Within. "There Was Evolution" relays a kicked back mood with its slow, infectious tempo. Madden delivers more of his violin which he has worked in throughout the whole release. Tabla drums bounce this track with sounds from across the globe.
Govinda brings urbanism to the mix with Bavu Blakes' hip-hop rap addition on "Wispers." It's followed by a scratching, heavy beat with Emily Clepper's French vocals on "Plus Loin". "A Day" is a delightful glitch beat with a nicely morphed male vocal. Unfortunately, Govinda strays from his formula with "El Sueno", a floating Latin piece, and creates true confusion as to what dish the recipe of this track is destined to become. But, "Dit Moi" and "So Near" deliever more well-conceived tracks that help elevate Sound Sutras to an overwhelmingly solid release.