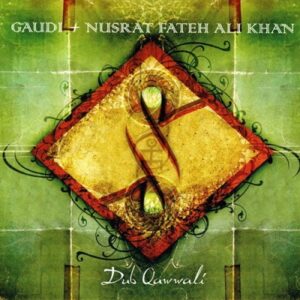 For some, the name Gaudi immediately brings to mind a style of architecture termed Art Nouveau that dominates the Barcelona skyline. For others, it brings to mind a style of music termed dub, where reggae dominates an electronic groove. Of course, in the latter we are speaking about the UK music artist Gaudi, known for his resume of organic sounds. Nusrat Fateh Ali Khan is to Qawwali music what Luciano Pavoratti is to Opera music. As a Qawwal, Khan's voice is incredibly powerful, strong, and long-lasting in a literal sense. He is prolific and has been featured on over 125 albums, and is somewhat of a national hero in his home country of Pakistan. For Qawwals, singing is a path for reaching God in the Muslim faith and it takes the vocalist to many different psychological states during this expression.
As a writer of music, Gaudi has 11 releases to his credit including the "world" influenced dub groover "Bass, Sweat and Tears", which three years after its release, is still Interchill's best-selling album. As a collaborator, he has been a featured guest on numerous other projects including Sounds From the Ground's "Palmprint" from their most recent album, "High Rising" (Waveform Records), and he's applied his expertise as a producer to various creations including Ashtech's auspicious debut, "Walkin' Target" released earlier this year by Interchill Records. Now, Gaudi combines all of his skills on an ambitious concept album called "Dub Qawwali", on which he mixes his own personal style with rare vocal recordings from the 60s and 70s of the late Qawwali vocalist, Nusrat Fateh Ali Khan, marking the 10 year anniversary of his death.
It's not hard for anyone with an appreciation for world music to be immediately attracted to Khan's personal expression when singing Qawwali, and, for dub fans you will be more than pleased with what Gaudi has done with reworks of Khan's songs on Dub Qawwali.
After the success of Gaudi's rework of a single Khan track for a remix project, a portion of Khan's catalog was opened up to Gaudi for this assignment. He has hand picked 10 tracks for this release and taken an entirely new approach to reworking Khan's music. Dub Qawwali begins with "Bethe Bethe Kese Kese" that instantly catches the listener's attention. This sound is quite unique and it transports you to many different locations around the world. At one point, your left foot feels the sands on a beach in the Caribbean while at the same time your right foot feels the warmth of the Indian sun. Gaudi delivers incredibly on this album and right from the start you gain a sense of its importance. The weight of it wasn't lost on Gaudi either, who stated "After 26 years of music activity I have to say that this is one of the most important productions I have ever done."
At times, Gaudi pours on the reggae with characteristic high-energy keyboard rhythms, plenty of dubby echoes, and solid drums like the infectious "Ghambar Bare Ne." At other times, a slow river of dub carries Khan's voice through complex progressions.
On each track of Dub Qawwali, you can't help but feel like Khan recorded his vocals specifically for this release. What Gaudi has done to revive these previous recordings is singular and Gaudi works brilliantly to cross a bridge between two different genres and cultures. Dub Qawwali is a well-thought and sure to be well-received collection of dub-infused music.
Tracklisting:
1. Bethe Bethe Kese Kese
2. Tera Jana Kere Rang Lawe
3. Jab Teri Dhun Main Raha Karte They
4. Dil Da Rog Muka Ja Mahi
5. Ghamgar Bare Ne
6. Abhi Apna Abhi Paraya Hai
7. Ena Akhiyan Noo
8. Kahin Mot Se Bhi Na Jao
9. Mainoo Ole Bai Ke Pee Lain De
10. Othe Mera Yar Wasda