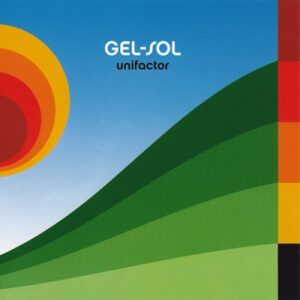 The name Upstairs Recordings brings to mind a futuristic idea of music that is light years ahead of its time created by true visionaries. At Upstairs, electronica is their rocket fuel that's used to propel your mind to a universe where music is the fifth dimension. This Vancouver label's roster is filled with heady electronic sounds produced by the mainstays of The Verbrilli Sound, Telefuzz, E.D. Swankz, and Solus. Their next addition to the space traveler crew is Gel-Sol, and he has released Unifactor, the ticket for your next mind exploration.
Gel-Sol is an American producer, an ambient/experimental/organic sounds author of sorts. In a previous life, he has released solo work on the em:t label including 1104 and appeared on other compilations. He also collaborates with fellow em:t artists like the audio-visual collaboration of the 302 Acid project. Now, after a relocation to the Seattle area we find Gel-Sol developing his unique sound on Upstairs Recordings, a logical choice to help write his new story.
Like any good novel, the story must begin with a foreword to inform the reader of the mind journey to come. It must entice the reader and set the tone for what is about to be learned. On Unifactor, Gel-Sol begins and applies an ear-opening start with "Open Her." This track is like flipping the first page and instantly seeing a new world. "Open Her" is layered with experimentation of soft, rolling synths. It transmits the audio waves of our human technological milestones captured by another unearthly civilization. It is a first hand glimpse into our crude world from an alien's perspective. The 'gel' forms from the individual 'sol' particles on "Brontosaur Yu" as we hear a more cohesive mixture of sounds. This second track carries the previous flow but coalesces into a well-driven beat. Definitely worth a listen. More experimentation is delivered on "Propulsion." Here, we are pushed into the mind of a supercomputer that is performing sophisticated musical calculations. This ambient sounding track rides into a more downtempo sound with "On A Clear Night You Can See The Answer." With the birth of this track there is no doubt he has made contact. It is a playful, well produced creation with numerous layers. Although there are many sounds to focus on here, it's a crisp production that melds beautifully. We are equally pleased with "Cool Sweet Awesome Yay!". We leave the atmosphere of the planet and find ourselves in the gravity-free zone. No gravity definitely increases the difficulty of listening to this track due to the overwhelming desire to groove on the dance floor. On "Cool Sweet" the sound of Gel-Sol has evolved and is a smashing gem. It follows Upstairs motto of music to evolve to and will without a doubt increase the intelligence of the species. Unifactor continues to bring a higher understanding of music production in the 21st century. Throughout the remainder, we find more of the same electronic experience from another world and we find the stars shining bright on "Mother Never Known" and "Saying Goodbye Is Never Easy."
Gel-Sol contributes an interesting diversity with Unifactor to the roster at Upstairs Recordings. His sound is so unique but fits perfectly into the flight plan at his new label. We can only hope that this new partnership will continue to travel the universe and bring peace to help soothe the souls of all human kind.