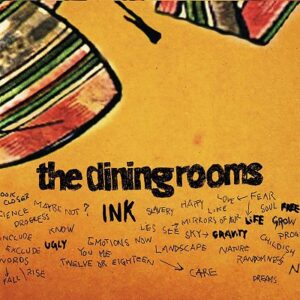 A dining room conjures up an image of evening sophistication with good food and even better wine. This is a place where one is likely to relax with friends and family and socialize about the day's events. For a moment, life slows down so you can appreciate the world around and enjoy each meal. It seems fitting that a name like The Dining Rooms is used by musicians from Italy where eating is a refined art. Indeed, this duo understands all about the enjoyment of life and have been chopping up tasty sounds for over eight years. Fortunately, The Dining Rooms continue to expand their menu and have released a new full length album entitled Ink.
Stefano Ghittoni and Cesare Malfatti are the chefs behind this musical culinary creation and have been producing sounds under the banner of The Dining Rooms on several previous releases. Their first creation, Subterranean Modern, was released in 1999 and was an immediate "ear" opener. This album is an infused meal stirred in a pot of down beat electronica with soft hip-hop in a broth of jazz. Guitar work and percussion are added that contributes complexity on this release. Stefano and Cesare started something special but it was just the beginning of their musical quest. Afterwards, their style melded more on Numero Deux and it is hard to find flaw in this release as more beautiful arrangements of electronic sounds are presented. On Numero Deux, this duo continues to never shy away from the use of living instruments like piano and guitar. Excellent vocals are also included that make this a defining release for the DR and it displays how jazz can be brilliantly twisted. Tre followed in 2003 and it seemed to be the missing second disc of Numero Deux. DR improved on their production work on Tre and their individualistic style was even more present. They followed this release with a remix album to document their new fans in the musical world. Versioni Particulari was released in 2004 and took tracks from their earlier releases to a new level. Artists like Cinematic Orchestra, fellow Italian Nicola Conte, and Quantic contributed to the incredible reworks. 2005 marked the year of their largest sound departure to date. Experiments in Ambient Soul was released with mixed reviews because of its obvious stylistic change. Fans seemed confused by the new direction, if not the ambiguous title. It was followed by another remix album entitled Versioni Particulari 2 with reworks of EIAS. The Dining Rooms were clearly branching out into the world and learning new recipes for their repertoire. This year all of their experience and hard work has culminated with their latest release, Ink.
Ink is a step back into the past and a jump into the future. The Dining Rooms have collected 11 tracks with sounds that span the history of their entire catalog. "Free to Grow" is the first track and will appeal to those Tre fans. Vocals are added to a more traditional jazz sounding arrangement and this track has a very cinematic feel. "Ceremony" follows and uses spoken word and is apparently part of Maria Arena's same titled short film. The Dining Rooms have continued their growth as musicians with live performances and Maria contributes some of her own video arrangements at these events. On "Ceremony" the track continues and a guitar rhythm becomes the main ingredient. This is followed by "Thank You" which uses more spoken word and delightful vocals. On "Fatale" a groovy base line begins and a funky drum line follows. Keyboards are added to this first of five terrific instrumental tracks on Ink. The title track carries a soft bossa style that is quite different for The Dining Rooms. It definitely acts like a divider of the album for what is to follow. The second half of this release pounds with more powerful creations. "Appuntamento a Trieste", "Etage Noir 1″ and "2″, and "Cobra Coral" round out the rest of this solid release.
On Ink, The Dining Rooms showcase all that they have acquired over the years. It displays their ability at writing intelligent songs and garnishing them with solid production. Hopefully, this release is just a sample plate of what is still yet to come from this act.
Track Listing:
1. Free to Grow
2. Ceremony
3. Thank You?
4. Fatale
5. Ink
6. Appuntamento a Trieste
7. Etage Noir 1
8. Etage Noir 2
9. Cobra Coral
10. On the Beach
11. Hear Us Now