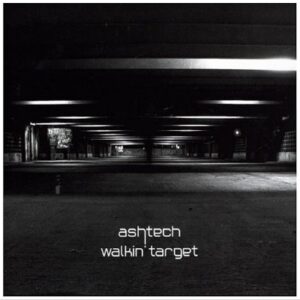 Toasted or not toasted? In a world of so many choices I find myself struggling with this question. It's quite important to get it just right for the spread I am about to lay down thick. But just as my mouth waters, my mind wanders from the visual spread mixture of peanuts and strawberry jam to an aural mixture. It too is a blend of sorts with a bass so discernable it has its own defined genre. It's the tripped-up, tripped-out world of electronic dub, and Ashtech's new release, Walkin' Target, is serving up just the right mental PB and J sandwich.
Ashtech certainly delivers proficiency with this debut solo release, and it is immediately clear he has a history and passion for reggae music. On Walkin' Target, Ashtech extracts the right elements of heavy bass, keyboards, and subtle percussion to make even Alpha Blondy consider a genre crossover. Thankfully, Ashtech made a croossover of his own and relocated to London. Here on the Island he has made great connections and he sweetens the pot with stellar production work of Gaudi. It's a great dub-step in the right direction for Ashtech's first release.
Ashtech put together a collection of great electronic dubby tracks. It begins with "DNA" and it works great at attracting your attention. It is easy to realize that good minds were brought together here. But it is just as easy to realize that Walkin' Target isn't overworked or overlayered with numerous samples and sounds. It is subtle and groovy. "Earthforce" introduces us to the vocals of Cheshire Cat. The Cat adds another powerful element to Ashtech's arsenal. Fortunately, his verbal contributions are found on several other tracks including "Essential Credential", "Walkin' Target", and "Beat Da Drum Gringo". This work from Ashtech is diversified musically and continues to provide a breath of fresh air of creativity. "Plain Speaking" is Tosca-ish with a sophisticated, addictive beat line. He even manages to include a nice ambient work on the departing last track, "Buzz Dub". But, the beauty is found in "Imaginary World". This track brings back the happiness of all that exists in dub. Its uptempo beat reminds you it is still possible to have your electronic cake and eat it too.
Throughout the 60 minutes on Walkin' Target, we find beautiful use of echoes in his rhythm that bounce of your drums leaving you with a pleasant smile. It is a great introduction to Ashtech's style and would definitely be a good introduction for the novices to the world of electronic dub.
Tracklisting:
1 – DNA
2 – Imaginary World
3 – Earthforce
4 – While the Music Plays
5 – Essential Credential
6 – R.E.M.
7 – Sun Shines on You
8 – Individuality
9 – Walkin' Target
10 – Plain Speaking
11 – Beat Da Drum Gringo
12 – Mahayana
13 – Buzz Dub