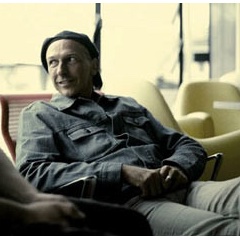 Tucked away in the hills of the Grosses Torfmoor nature preserve hides one of the most prolific German electronic recording artists today. Roland Voss is the brainchild behind the musical act Lemongrass and the ever expanding catalog of Lemongrass Music. He is also a collaborator who shines in the family style sound of Weathertunes and Jasmon. Roland is quite the busy man but Slackline managed to catch up with him after his recent return from Asia and exchange a few words.
Slackline Radio: Tell us about your recent life. What has been keeping you busy lately?
Roland Voss: Lately, I´ve been working on several music projects – I made some remixes from songs of friendly artists like ielo (France) , Maomakmaa (Berlin) and Manalili (New York), and others. These remixes will be part of a compilation that also keeps me busy currently: Lemongrass Garden Vol. 2 which will be released on my label Lemongrassmusic in autumn. Furtherly, my brother Daniel and me have been creating the new Jasmon album Hammock Dreams which will also appear on Lemongrassmusic in autumn. The time that I´m not spending in the studio I´m spending outside in our 3,000 meter garden situated in a nature protection area, bearing many different birds and plants. In our garden I´m growing a large diversity of exotic plants from many places on Earth which are able to live in a climate like ours – also herbs and spices and vegetables. It is nearly the same concept that I have for the Lemongrass Garden compilations. Recently, I created a compilation for the German label Toptrax called Son Femelle which was released in April. And, I´ve been spending a lot of time on MySpace to find new artists for my label.
Slackline Radio: Your new release shows another side of your sound as Lemongrass. What was the inspiration behind Filmotheque?
Roland Voss: I wanted to create a new lounge album with less dancefloor beats than the preceeding albums. Furtherly, it is completely free of vocals after I had made two albums with many female vocals. The new album also fulfils my affection for Jazz, and it creates athmospheres and esthetics of special old movies from the '60s and '70s. I got some inspiration from old movies but the music could also fit into modern films – somehow it was made to be accompanied by pictures…
Slackline Radio: Performing music can be a challenging, sometimes stressful experience. Tell me about a recent experience where things didn't go quite as planned and how you handled it.
Roland Voss: I always try to make the best out of every situation and luckily I never had any stressful experience on stage.
Slackline Radio: It's clear your musical personality has many voices. From Lemongrass, to Weathertunes, to Jasmon. Tell us a little about the direction you travel under the moniker Jasmon. How does this music differ from your other projects?
Roland Voss: We sometimes call the Jasmon music "Ethno Lounge" because we apply the sounds of many Asian and African music instruments and sometimes "New Age" because it often has a "meditative" or "spiritual" character. Also, we work (or have worked) with musicians and vocalists from many different countries:
– Mohammed Mounir (vocals / Egypt)
– Alain N´Kossi Konda (vocals /Kongo)
– Djamel Laroussi (vocals / Algeria)
– Roman Bunka (Oud / Germany)
– Yuko Matsuyama (vocals / Japan)
– Genetic drugs (together we produced the album Genetic Drugs & Jasmon – Spacecake )
– Andreas Prante (accordion / Germany)
and others…
Daniel has just finished the debut album of his project Green Empathy and the album Souvenirs will be released on Peacelounge Recordings in July. Green Emapthy has a quite similar profile to Jasmon and so we decided to make the new Jasmon album Hammock Dreams together.
Slackline Radio: Music is dominated by aural depictions in the mind that must be translated into words to describe a personal feeling. Tell us how "carribean-oriental" translates the feeling behind your work as Jasmon.
Roland Voss: Yes, I once named it "carribean-oriental" and it expresses the feeling that I have when I´m thinking of tropic places. Perhaps people living in tropic countries wouldn´t make such music but that´s something happening in my fantasy. In the past, I used to listen to a lot of Dub and Reggae music and those "carribean" impressions definitely flew into the music of Jasmon.
Slackline Radio: You have experienced a strong following with your fans in Japan. What do you take away from Japanese culture that you apply in your daily life?
Roland Voss: For me the strongest influence from Japan is my wife Nono. We became a couple in Tokyo two years ago and we married last December. Living together I meet her culture in my daily life – we drink Green tea every day and we sometimes eat Japanese food, we listen to Ryuichi Sakamoto and Yukihiro Takahashi and sometimes we watch Japanese movies (one of my favorite animation movies is "Nausicaä" by Hayao Miyazaki).
Slackline Radio: Tonight, what will be in your glass and on your plate for dinner?
Roland Voss: In my glass will be a dry organically grown red wine from France. And on my plate will be tomatoe salad and "Nori Maki" which is a Japanese meal made of rice and vegetables wrapped into sea-weed. Generally, I like cooking very much and I use a lot of Asian spices, coconut milk, sesame and sesame oil and fresh organic vegetables. As my wife is Japanese and she likes cooking as well we also have typical Japanese meals on our plates sometimes.
Slackline Radio: How does collaborating with your brother on your side project, Weathertunes, affect your own musical style?
Roland Voss: I´m collaborating with Daniel very intensively in the projects Weathertunes and Jasmon and Daniel´s musicality is a perfect complement to mine. He is a keyboarder and a guitarist and I am a drummer and we found many ways to let our ideas flow together. Although Daniel participated on some of the recent Lemongrass albums, Lemongrass is clearly my style. Our connection is very strong and that´s why we live and work together since more than 7 years.
Slackline Radio: What do you sense is next in the evolution of Lemongrass?
Roland Voss: I´m not sure about it yet because I´m currently very deep into Jasmon and the expansion of Lemongrassmusic.
Slackline Radio: Throughout your extensive travels where would you like to call your second home to Germany?
Roland Voss: Well, I feel at home where I am as long as I feel good there… but that´s not what you were asking…
Throughout the years I considered many places to be my second home – 20 years ago it was France and I planned to emigrate to France for quite a while, but finally I didn´t. Later, I frequently visited Portugal, Turkey and the Canary Islands and I was dreaming of having my own house on La Gomera Island from time to time. Recently, I´ve been travelling to Japan and Thailand and I could now consider Thailand to be my second home because I spent many months there in 2006 and 2007. But, it can change again and I might like another place soon. So, actually there is no place that I would really call my second home.
Slackline Radio: Freedom is important for musical creativity as well as personal choice. Do you feel Google should allow censorship on its Chinese search engine?
Roland Voss: I think that every single person on Earth should have the same rights and that definitely includes the possibility for everyone to get information as freely as possible. I think it´s not a good way to segregate anyone and refuse information.
Slackline Radio: Do you feel the digital revolution is hurting or helping the music industry?
Roland Voss: I don´t know, but the internet helps me to spread my music among the globe easily and more independently, to communicate and to create networks in the "global village" and share data easily and quickly. Also, the digital technical progress made it possible for me to make the music that I make, and more comfortably than 15 years ago.
Slackline Radio: Do you consider yourself a "green" artist? What have you done lately for the environment?
Roland Voss: As I´m living right in the middle of a very beautiful and rich nature and as I´m spending a lot of time in it I would say "yes". I´m eating organically grown food (95% vegetarian) , we use green energy, I rarely use my car and we are creating a natural garden with many shelters for birds and other animals and a large pond. Furtherly, I´m sending positive thoughts to my environment whenever I can.
We hope Roland will continue to spread his positive thoughts through the beautiful music he creates. Slackline extends many thanks to Roland for taking the time to speak with us. And, be sure to tune in to Slackline in the near future to catch the new releases from Roland Voss.