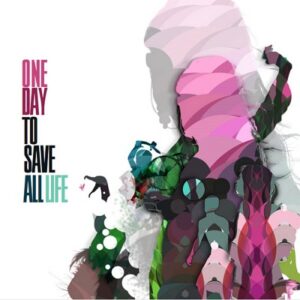 Winter always provides a unique opportunity to view the world around you. As the layers of snow accumulate, the landscape drastically changes. The sun bows down to the horizon and creates unique colors that make the mind wander and marvel. It seems appropriate that Keston & Westdal would release their new full length album in the dead of winter. On One Day to Save All Life (Unearthed), Keston & Westdal have transformed their sound and created just the right addition for the season to help add another layer of chill. Only this chilled out addition to your world doesn't require a jacket. But, it is sure to provide a sound that will also make your mind wander and marvel.
Keston & Westdal are at the forefront of today's modern electronic jazz sound. They have developed an art of morphing beautiful electronic beats and synths along with their traditional instruments. Nils Westdal consistently provides a stable and trustworthy rhythm on bass guitar while John Keston uses his practical knowledge of the keyboards to delight the ear drums. On each of their two previous releases, Super Structure Baby and Truth is Stranger, Keston & Westdal have applied layers of creative electronica on a canvas of their well-written compositions. For their next creation, there is no exception to that rule. But, this time Keston & Westdal have worked a new formula for their music that is decidedly different.
For Keston and Westdal, One Day to Save All Life sits in a class all by itself. The listener becomes immersed in a world of slowly flowing grooves that are quite different for the pair. This release shares comparisons to some of the exploratory work of Boards of Canada or even early Pink Floyd. It's not reflective of an overall comparative sound but rather a hat nod at creative music that achieves a mood that cannot be duplicated.
One Day begins with "Some Kind of Adhesive," a slow-to-start rhythm for the album. The initial beat work sounds like an organism experiencing the beginnings of life. Sure enough, Keston & Westdal's sound enters and delivers a terrific melody that really sticks. "Panopticon" follows with its funky downbeat. The title of this track is typically used to describe a prison building, but, in contrast it breaks free from any shackles with its groovy style. Later, the two reach the paramount on "Untraviolet Amphibian." A solid beat is carried by Westdal's deep bass and Keston's subtle keyboards. Experimental, distorted noise work enters and provides an eery backdrop. Superb. This work continues its infectious path with other gems like the kick-backed "Spring in December" and one of the more upbeat tracks on the album, "FE2O3."
Throw your previous opinions and perceptions of Keston & Westdal out the window because this release is sure to give you a whole new outlook on their music. The overall sound for this album retains a more relaxed feeling than previous work. Don't be shy because One Day beautifully displays their creative development and their attention to the production detail. It will continue to deliver excitement after each listen. It is the kind of stuff that will have a high value for travelers on future long voyages to Mars.
Track Listing:
1) Some Kind of Adhesive
2) Panopticon
3) Electric Sheep
4) Ultraviolet Amphibian
5) Spring in December
6) Cover Your Eyes
7) Aerosol Eighty
8) Six Weeks
9) Upward Not Northward
10) FE2O3
11) Ostracon
12) Vaccinated