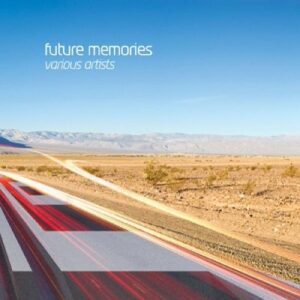 Whether it be Dissolving Clouds, the Earth Octave Lounge series, or Arcana, Interchill Records have been wrapping up selections of sounds on their numerous compilations to classify their style of downbeat. Combined with solid solo releases from the likes of Mauxuam, Ashtech and Gaudi, this Canadian based label continues to define the meaning of quality downtempo, dub, and ambient infused electronic music.
Interchill fills their catalogue with ethnic sounds dominated by creative beats and on their latest collection, Future Memories, Interchill elicits the help of label DJ Nathalie Edell to help write the next chapter. Edell assembles quality tracks from label mates and producers from abroad to create a mood that will continue their tradition and will test your headphone imagination.
Eat Static has just released a full length album on Interchill which may be the reason Edell chose Static for the opener. On "Sands of Time," we are feeling the heat of the desert with Static's use of minimal vocals and traditional instruments. Layered across a slow melodic beat, it is like an adventure into the world of another culture. Next, Ultimax's "Noir" washes over like a slow storm to transport the mind with beat work mimicking the randomness of rain's falling pattern.
Not much has been heard of Radiate before this release. Let's hope this changes in the near future because "Witchkraft" is solid. Radiate is the alter ego of Sebastian James Taylor, the mastermind behind the Kaya Project. He combines his familiar use of worldly sounds with more true electronic beats on "Witchkraft."
"Deeper" by Phutureprimitive might bring on a head scratch with its slightly more upbeat tempo and vocals from Alyssa Palmer. It may not seem entirely appropriate set against the other tracks on this release but it does provide a nice change of pace for Future Memories.
Edell next highlights Mauxuam on the track entitled "After B4." This song is pre-released as a teaser of the fantastically tripped-out sound of Mauxuam's new full album, Vice Versa, on Interchill.
Nick Brennan has an extensive music history and has appeared before on Interchill releases as Tripswitch. He resurfaces on the next track "Lyra." Brennan studied piano at an early age and he uses it to perfection across the experimental beat and noise work in "Lyra."
Solar Fields begins the transformation for the backend of Future Memories. The tempo steps down with "Jeezlh" and rides the waves of flowing background synths. This progression moves into a more meditative track on Snakestyle's "Neutral Buoyancy." Test your mental limits in an environment void of all other sensory. This may be the perfect training material for Remote Viewing. Carbon Based Lifeforms and Cell contribute two additional tracks to help set this compilation apart.
Edell truly has an understanding of the message being sent from Interchill Records these days. She speaks volumes through the wisely chosen tracks for Future Memories that tells a story of a cohesive style downbeat music.