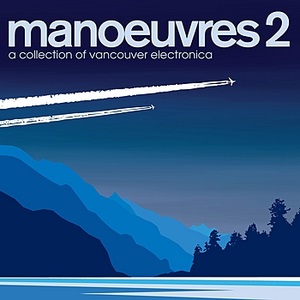 If the current economic situation in the U.S. hasn't got you down, then maybe the war in Iraq has. If that hasn't worked at lowering your hopes for the future of the world, then maybe the current food shortages and increases in cost for about every commodity have helped destroy your optimism. Collected with the recent disasters in Burma and China, it is the recipe to create a collective somber amongst about every human loving sole on the planet. That is where So Called Records steps in with their second collection of artists from the Vancouver area on Manoeuvres 2 to help change your frame of mind.
We can all use reasons to feel uplifted these days. Buy some organic produce, free range chicken, or participate in the all too trendy surge of going green. Reduce your carbon footprint or maybe have one less child to reduce the pressures of over population. Or, better yet wash your pessimism away with good old fashioned electronic music. So Called Records delivers ten artists on Manoeuvres 2 and helps instill a belief that there is still some good in the world.
It begins with an unfamiliar artist, Alektronic. Trying to dig up beta on this producer is like convincing the automobile industry to stop building vehicles that burn fossil fuels. They're destined to not go unknown for too long because "Drone 420" is a decent piece of work I'll describe as a slow creep of low-fi, trip hop where a shady beat walks a hidden rhythm down a dark eerie alley.
On the other hand, Tomas Jirku has a musical career that drives with efficiency. Originally from Czech, he has relocated to Vancouver where he records anything from techno to hip-hop. On "To Sleep at Sunrise", Jirku plays with a soft-house beat that rolls slowly against predominate electronica, showing the influences from his diverse work.
"Plane Jane" extends the feeling with another downbeat house variety. Gavin Froome delivers a relaxed mood with a repeating piano and bongo rhythm that is layered against warm ambience. This track is sure to provide a nice renewable energy source in the evening. Check out Calamalka's stylin' vibes on "Cropper." This dubbed out track is filled with the expected echoes, organs, and trippy electronic beats.
"Vibing" is one of the more pop oriented tracks in the collection. It comes from Fauxliage, a band comprised of members of the Canadian outfit, Delerium, with the vocals of Leigh Nash. This track is a sort of conservation effort as we find her voice silent on this catchy melody of keyboards and dreamy synths.
The Hermit, who had a track on the first edition of this compilation series, returns again and this time we see a serious rework of "Find Someone Who Actually Loves You" from a neighboring Upstairs Recordings artist called Gel-Sol. Gel-Sol has hardened the sound of Hermit's track and creates a new solid beat while retaining the right elements from the original production. Again, the Upstairs Recording artist, Telefuzz, is highlighted for this compilation. He delivers the signature space age sound on a new track entitled, "The Ovaltine Prophecies." Leave it to Don Verbrilli to create those witty titles that will cause a chuckle. This chilled out piece will remind some of the familiar delightful sounds from The Financiers of Samsara.
Manoeuvres 2 is a collection of 10 tracks delivered at a time when good music is certainly needed. This compilation showcases how the power of music can help right your mood even if you aren't feeling necessarily apocalyptic. Do your part to spread the good and experience the emerging sounds from Vancouver, Canada, on Manoeuvres 2.