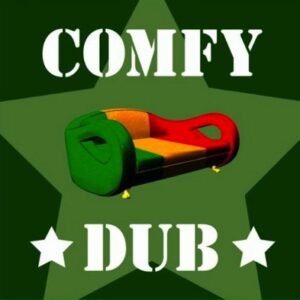 On Comfy Dub, George Solar speaks to all his mistaken Twitter followers that believe in the power of renewable energy. Sure, dub music has a way of being infectious, resulting in repeated airplay with no reduction in power output. But, the truth is that George Solar's name has more to do with the light he sheds on great downbeat dub than it has to do with photons. And, now George has put together a collection of great dubby tracks called Comfy Dub just in time to motivate the world leaders at the summit on climate change in Copenhagen.
Mr. Solar resides in Cologne, Germany. When he isn't helping to spread the word about Wax On Records through his selfless promotion of their releases, you can find him spinning sets at numerous events around the globe or creating his own stylish downbeat sound. On Comfy Dub, George Solar presents a righteous set of 14 reggae-infused tracks from around the globe from 12 different countries. He has included some of his personal favorites from other artists as well as introducing us to his own creations.
He pours it on thick and slow as molasses on Comfy Dub. This is the kind of dub you want to bathe in even if it may get you a little sticky in the process. There are great artists on here that true dub officiandoes should really become acquainted with. Each carries a slightly different bent that must speak about their geographic influences like the Austrian Waldeck, South America's Federico Aubele, and Fat Freddy's Drop from New Zealand. But, if time is of the essence and you want to go straight to the source for smooth dub-lissful solace, then look no further than Lefthand's "Cadillac Track". Here, George Solar remixes this track under one of his monikers, Solar Moon. It carries an awesome rhythm punctuated by soulful horns, echoes and synths. Solar's hand can be found in other beauts, such as the duo-set of Jen Meets Chin Chillaz. Her sultry voice takes over with a beat that sets a perfect mood. All in all, Comfy dub is an excellent collection of like-minded dub sounds. It is like that warm blanket that you just don't want to get out from underneath.
Track Listing:
1. Waldeck – This Isn't Maybe (Mark's Underlevel Dub)
2. Jen Meets Chin Chillaz – No Ordinary Life
3. Rubbasol – Music Makes Us Feel Sexy (PFL Dub)
4. Federico Aubele – Un Lugar
5. Cottonbelly – Intense Dub
6. Salz – Katy Copy
7. Fat Freddy's Drop – Cay's Crays
8. Seven Dub – "Running Away" (Noiseshaper Remix)
9. Up Bustle & Out – Wild Majesty
10. Lefthand – Cadillac Track (Solar Moon Backseat Dub Instr.)
11. Rubbasol – Mango Bong
12. Radiq feat. Paul St. Hilaire – Rocker's Rebel
13. George Solar & Lefthand feat. Jen – Comfy Dub
14. Pluto Project – Worldwide