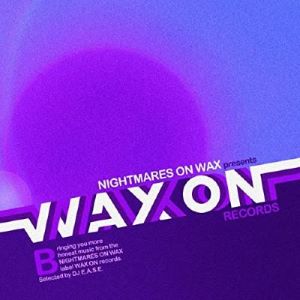 Wax On may sound like a prescriptive method for honing your karate skills.  But, really, it should ring the sound of that Nightmares on Wax label delivering all the "honest music" of so many great talents.   In case you are unfamiliar, the sounds of Wax On are now available on a second compilation, Nightmares on Wax Presents Wax On Records Vol. 2, just in time for your next Shotokan training session.  It's hard for anyone to resist the vibes from the artists on their roster and even Daniel-son would be hard pressed to deny how good these downbeat tracks really are.  From the Deadbeats to Benji Boko to Gelka to Negghead, they all deliver a variety of cohesive beat-heavy music.
George Evelyn, aka DJ E.A.S.E., aka Nightmares on Wax (NOW), started the label with the idea "to deliver quality music with that certain 'soul factor' and, for that purpose, to create a network of unknown, or known artists, djs, singers/MCs, producers and musicians alike."  Through his travels and gigs worldwide he has made connections with some like-minded artists.  He has worked to collect a group of creative people because he believes that if you bring 'em together, "something special is going to happen."
Right from the start, NOW brings us some of the French goods from Wax On Records with Guts.  Guts is a dub-man of sorts and he really pours on the island vibes with a rhythmic guitar lick and dubby echoes.  He is also known for his hip-hop influences but we don't find them too pervasive here.  But, we do find a reggae-sounding, choice selection to start off the comp.

The Deadbeats surface next with the laid back "Loafin'".  These guys are not new to the scene, only returning from a long break after the successful release of "Lounging" at the turn of the century.  "Loafin'" is reminiscent and we get a double taste when they show up later on this compilation with "Got What I Want", a rump-shakin' fest that shows us they are definitely not dead.
Benji Boko's "Perhaps" is an overlaid monologue with a life-coaching message.  It's playful and rings true to his recycle mantra.  Benji loves to use old sounds from ages past, like video game samples.  On "Perhaps" we don't hear much in the way of Pacman, but do feel the rhythmic and hypnotic beat of a catchy tune.
From Budapest, is Alex and Sergio of Gelka and their contribution to the Wax On compilation is felt through the beautiful vocals of Ella May on the Deadbeats remix of "Soon."  This track is definitely soulful with its kicked-back pace.  They show up later on the comp showing off a variety of influences on "Eau Rouge Pt. 3."  Here the duo works a subtle hip-hop beat with guitar and overlaid horns to meld a jazzy sound.
Dan Ward has been working with NOW for awhile, remixing and DJing at worldwide events.  He now works under the moniker Negghead on Wax On and he is another star on this compilation.  He brings the funk with two danceable tracks, "Build It Up (Break  It Down Mix)" and "Being."  These tracks follow the recipe of the collection, bringing the beat with an uplifting vibe.
Vol. 2 is an overwhelming success.  This 15-track compilation is a worthy addition to your collection for all those Nightmares on Wax fans.   It follows in the footsteps of their debut compilation and we can only keep our fingers crossed that the guys at Wax On will continue this tradition in the future.
Track Listing:
1)  Guts – L.U.V.
2)  The Deadbeats – Loafin'
3)  Benji Boko – Perhaps
4)  Hungry Ghost – K_sta
5)  Gelka – Soon (The Deadbeats Remix)
6)  Krts – Doran Penny Roller
7)  JD73 – Dark Dub
8)  The Deadbeats – Got What I Want
9)  Negghead – Build It Up (Break It Down Mix)
10)  Mozez – I Just Can't
11)  Inkling – Nevermind
12)  Marcel – Sword Progression
13)  Gelka – Eau Rouge Pt. 3
14)  Ricky Ranking – We
15)  Negghead – Being