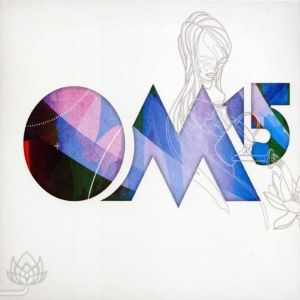 Om Records are 15 years old and they are celebrating their birthday with the release of a 2 disc compilation.  Over the last 15 years, Om Records have built a reputation of delivering solid artists across a spectrum of musical styles.   From house to chillout, they have brought many talented acts from around the globe to the ears of electronic music lovers.  Om 15 shines with the light of everything they have become.  It's time to get up and dance and help celebrate a milestone for Om Records.
Their dedication to providing a variety of beats has created many reasons to fall in love with Om Records.  They are masterful with their many compilation series and clearly have an understanding to know what works and what doesn't.   For Om 15, they have assembled numerous artists from their label as well as others they feel deserve recognition.  This compilation is far reaching and speaks volumes about what Om Records represents.  "This release is a nod to the past while looking toward the future."
Disc 1 delivers a selection of upbeat tracks.  And, who can argue with that considering this release is a cause for celebration.  House and dance beats abound with the likes of Sygaire, Spirit Catcher, and Pezzner.  Disc 2 steps down a notch and will appeal to those fans of their legendary Om Lounge series.  You'll find familiar sounds of Eighty Mile Beach, Atjazz, Mike Monday, and the emerging Jazzual Suspects.   Whatever mood you find yourself in, the collection of sounds on Om 15 will set you right at ease.  It showcases everything you have come to expect from Om, and then some.  Happy birthday Om!  We salute and wish you success for many more years to come.
Track Listing:
Disc 1
1.  J-Boogie's Dubtronic Science feat. Jennifer Johns – Together (Crazy P Remix Edit)
2.  Sygaire & Defcon feat. Captol A – The Latest
3.  Daz-I-Kue & Soulparlor present Stan Steam – C'mon Rock
4.  Spirit Catcher -Beezy Operator (Vocal Edit)
5.  Opolopo and Demetrius – Tonight (Detroit Mix)
6.  Nacho Marco – Move You feat. Aqeel
7.  Radio Slave – Orchestrating Maneuvers In The Dark (Edit)
8.  Pezzner – Chapter_Two
9.  Smokin' Mirrors – Set It Off
10.  Fish Go Deep – No Applause (Edit)
11.  Lovebirds – This Feelin'
12.  Lance De Sardi – We Are Giants
Disc 2
1.  Idan K & The Movement of Rhythm feat. Melanie Hitchcock – Like A Tree
2.  Eighty Mile Beach – Las Jacarandas – [Eighty Mile Beach]
3.  James Curd – The Wills and the Wont's (Enzo Ponzio Remix)
4.  Donn T – Kisses
5.  The Jazzual Suspects – Busy Bee (15 Year Dub)
6.  Charles Webster feat. Samantha James – Together As One
7.  Atjazz feat. Clyde – Please You
8.  Alland Byallo feat. Cari Golden – Head First Omega
9.  Jade Alexis – Microphone Hands
10.  Mike Monday – Stargirl
11.  Frankie Flowerz – Groove On 98
12.  Belle Fast Radio – Vacation
13.  Rocket Empire – Montezuma's Revenge
14.  Christian Prommer – Inner Space