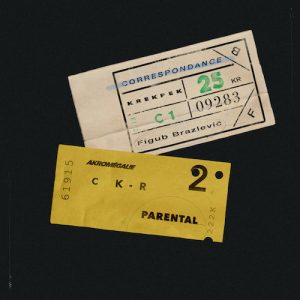 Remember running home from the playground because mom is up to something good? She would mix up a few savory items that you know now were always meant to be together. You slide up a chair in anticipation, mouth watering as your taste buds explode from her culinary treat. Like peanut butter & jelly, spaghetti & meatballs, cheese & crackers, the beats that Parental and Figub Brazelvič bring together on Correspondance is nothing shy of a perfect match.
When I first caught wind of this upcoming release, I was kicking myself silly for not thinking of it first. Two of the best producers in downbeat, instrumental hip hop come together for a marriage of sounds and styles. I thought, "of course these flavors will work perfectly together," as I blend up an afternoon smoothie. But, only if you know their palmares can you say that with confidence.
Parental and Figub each shine to make their mark on this release. Sometimes Parental's sound comes through loud and clear, like the slow kick back on Les Sneakers Du Roi. Other tracks bring a recognizable noticeable beat from Figub, like the playful Jet Ski Gelato Bounce. But, at other times there is something melding in this sound, as each add some perfect mysterious spice in the recipe of Ghetto Birds. In the end, it's an all out smorgasbord of the very best in sound production from these two.
Les Sneakers Du Roi
Jet Ski Gelato Bounce
Couscous Crêpes (feat. Alcynoos)
Ghetto Birds
Réunion De Martre
La Cucaracha Gloriosa
Yesterday's Tomorrow
Résidus De Vin Rouge
Correspondance
Réconciliation
Águila Calva
Sens Unique
Sixsteps On The Rooftop
Court-Circuit
Listen here.