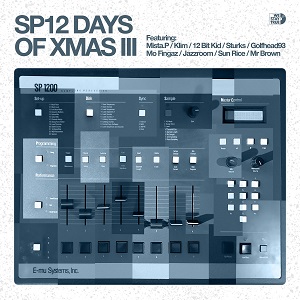 It is that time of year when old Nick visits kids in the middle of the night, magically producing those items only dreamt about throughout the year. For some, it brings back fond memories of those holiday seasons gone by. But for other peeps, we can laugh thinking back to when we were caught peeking under the tree. Maybe you were even busted leaving gifts with damaged wrapping paper after your confident surgical precision. Whether or not you are naughty or nice this year, we all deserve this new release from We Stay True.
This is the third installment of gift giving from the label and these new beats lay down a little spirit. They are low down in beat frequency, but definitely up in holiday hip-hop flavor. Now, you won't find any familiar rhythms from Nat King Cole here (thankfully), but you can still appreciate these in your stocking stuffer. This compilation brings together nine artists from this beat-making label in a perfectly wrapped package.
This recording begins with Apollo 22 from Mista.P. This groove is sure to get Ms. Clause in the mood with its boogie-like rhythm. This London producer contributes two good tracks coming on the heels of his '21 release, In Bits. Next in line also out of London, we get a taste of what Mo Fingaz has to offer on Vulcan Neck Grip with its deep sound filled with a backstreet undertone. Get introduced to Klim with his funky Slippery, his take on a futuristic Mo' Town. To some, we need no introduction to KLIM Beats, that Ukranian producer with a solid sound resume. And, across the pond here in the US, Sturks from Pittsburg "represents" a hard-hitting boom bap sound with his Posse Cut that is like an extended play from his first full length recording, Old Roots New Trees, released earlier this year. The exceptional One Love from the Dutch artist, Jazzroom, highlights his European connection with it's bossa sound. Mr Brown, owner of the We Stay True label, rounds out the release with the second of two of his tracks, Funkworks. His productions and selections for this release are spot on here. You would be well served to make this record a new year's resolution at becoming musically fit.
Track listing:
1. Mista.P – Apollo 22
2. Mo Fingaz – Vulcan Neck Grip
3. Klim – Slippery
4. Mr Brown – Club Meet
5. Golfhead93 – How We Do It
6. Sturks – Posse Cut
7. 12 Bit Kid – What!?
8. Mo Fingaz – The Red Zone
9. Jazzroom – One Love
10. Mista.P – Sloe Gin & Spruce
11. Sun Rice – No Obligations
12. Mr Brown – Funkworks
Listen here.