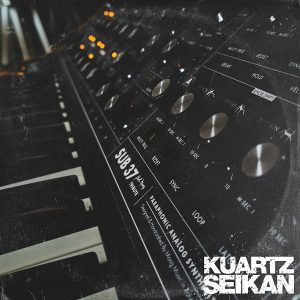 On Seikan, the musical terrain blurs like a visual from a bullet train. Kuartz moves down the rail line of instrumental hip hop with layers of synths and keys. No doubt, this Manchester native must be drawing from his memory riding through that underwater tunnel. However he managed to pull together this lo-fi beat collection, you'll want to get on board with where it is heading down the track.
Matt Kuartz's productions began back in 2015 with the release of several beat tapes, reflecting his early years cutting his teeth and building his presence. In 2017 on Koishiteru, a love of samples is evident as he layers over raw beats that come through loud and clear. Fast forward to 2023 and Kuartz embraces a new sound with Japanese influences on Seikan. It's not just the beats that he weaves but it's the dials that he turns that help build its power. Call him a Samurai in armor ready for war when he lays down a waveform ready to kill you.
For those that have been following Kuartz's progression, you may find surprise with Seikan in its delivery. It is likely not to feel the same but different in an altogether new space. But, it is no doubt that his old and new fans will find delight with its downbeat, hip hop, sometimes boom bap presence that pervades across these twelve tracks. Subsonic is first to likely catch your attention. The electronics dance back and forth across your ears laid to a soulful downbeat. Lo Def feels like an extension in thought process as it brings more aural bliss with the same recipe. Wait up for the slightly dirtier beat of Phyriction. And just as you feel the night getting late, you will be at ease with Analog Sunsets, that perfect laidback, late night slow kicker.
Shingen Knights
Subsonic
Crystal Razor Canyon
Portals
Arcade Grande
Lo Def
Phyrction
Starlight
Mythic Rare
Techlaze
Analog Sunsets
Sleez
Listen here.